Women warned don't keep quiet about 'silent killer'
It's sometimes described as the 'silent killer' as symptoms are often mistaken – or even ignored.
Now, over 3 years after her initial treatment for ovarian cancer, 70-year-old Rhonda Norman is urging women to 'trust their body' and see their GP if they think something is wrong.
"In my case, I just felt unnaturally tired and weak," explained Rhonda. "Then I felt like I'd pulled a muscle in my side, next it was a dry cough, I just couldn't shake off. I felt ill but it seemed a number of different things were causing the problems – nothing leapt out at me to make me think it might be cancer."
Rhonda, who lives in Four Oaks with her husband Phil, started to feel bloated and seemed to be putting on weight around her breast and sides but nowhere else.
"It was at this point that my husband insisted I went to my GP and saw the Head Practice Nurse. She gave me antibiotics for the cough but told me I would have to come back again to have the bloating examined.
"Thinking it can't be important I wasn't even going to go back but, once again Phil wasn't accepting that, so back I went."
It was a decision that may well have saved her life.
"A blood test indicated I needed further examination and a scan revealed I had ovarian cancer. It was a complete shock – cancer hadn't crossed my mind," said Rhonda.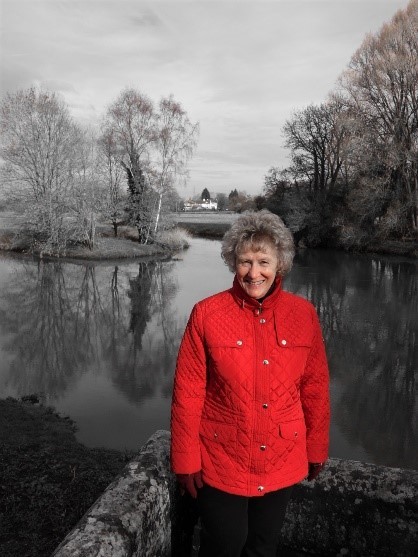 Rhonda Norman on a walk around Shugborough Hall
It was at this time that she met Consultant Gynaecologist and Gynaecological Oncologist Mr Janos Balega at Spire Little Aston Hospital. He explained that she would require major surgery to remove the cancer followed by chemotherapy sessions.
"Fortunately we caught the cancer before it had spread and we were able to carry out successful surgery to remove it. This is why catching it early is so important," he said.
"In this case, thanks to a little help from her husband, Rhonda did persevere and get the blood tests she needed from her GP which highlighted the fact that she needed urgent treatment.
"Far too many women dismiss the symptoms thinking it is just an illness they can 'shake off'. Unfortunately, there is not always a specific symptom and the symptoms can be so subtle they are even difficult for the GP to spot.
"As there is no screening available for ovarian cancer, it is important that women are made aware of possible symptoms and are encouraged to seek medical advice as soon as possible if they spot any of them.
"I urge women over 50 to visit their doctors in case of persistent symptoms such as bloating, feeling full quickly, loss of appetite, frequent urination, change in bowel habit, pelvic or tummy pain. Most of the times it is not cancer causing these symptoms and with simple tests, ovarian cancer can be excluded." 
Rhonda then had six chemotherapy sessions over 18 weeks at Spire Little Aston.
She said: "I can't pretend that chemo is pleasant because it isn't. "However the staff in the cancer unit are absolutely delightful – especially, Anora and Jo. I also saw Mr Balega several times and must mention his secretary Chris who has been 'golden' from beginning to end."
Three years on from the operation Rhonda is still having regular tests with Mr Balega.
"Provided everything goes to play, I have another two years of a five-year cycle of check-ups before I get a confirmation of being clear of cancer. It is a day my family and I are looking forward to.
"All I can say to other women is if you think there is something wrong don't take no for an answer. Get to your GP and tell them your fears. If they don't offer blood tests then ask for them! I'm afraid being meek and mild isn't an option when your life could be at stake."
On 8 May, we'll be recognising World Ovarian Cancer Day. For more information visit the World Ovarian Cancer Coalition.
Learn more about ovarian cancer and cancer treatment at Spire Little Aston Hospital