Derek's Ringing Endorsement For Robot-Assisted Knee Op
Bell ringer Derek Giddins is ringing out the praises of his surgeon following a knee replacement operation that saw him walking without crutches in less than three weeks.
Seventy-four-year-old Derek, who lives near Lichfield with his wife Gilly, had the operation at Spire Little Aston Hospital where he was offered the option of Mako robot-assisted surgery.
"My surgeon explained the benefits of the new system and how it could speed up my recovery time. I am a very active person and I wanted to get back in action as soon as possible so it seemed perfect for me," he said.
The procedure was carried out by Orthopaedic Surgeon Mr Jamie Arbuthnot, who explained: "The Mako system uses CT scans to generate an exact model of the patient's knee or hip. That information is then fed back through the robotic arm allowing the surgeon to determine how much bone to remove and also to ensure accurate alignment and achieve optimum soft tissue balancing.
"If the robotic cutting tool is passed over a part of the joint that doesn't need removing then the cutters automatically stop… not starting again until it reaches parts mapped out for removal. Once the bone is removed the Mako then assists the surgeon as to where to place the implant to achieve the most accurate fit possible."
Mr Arbuthnot, who started using the system when it was first put into action at Spire Little Aston, added: "It allows me to consistently optimise implant placement which gives the patient a more natural-feeling knee and usually means a quicker recovery time and much reduced post-operative pain.
"The best type of joint replacement is one that lets you forget you actually have one and I really think Mako enables surgeons to meet that goal."
Derek, who has been bell-ringing since the 1960s, was once a regular ring at Guilford Cathedral. Since his move to the West Midlands, he has been ringing at the Church of St Nicholas at Mavesyn Ridware and Holy Angels at Hoar Cross.
This week he climbed the 58 steps at Holy Angels Church to toll the 28cwt tenor bell for the first time since his operation. "Bell ringing hasn't taken place during the lockdown but it was great to have the chance of a short practice get the feel of it again after such a long lay-off," he said.
Derek is also back on track with his other hobby – cycling.
Having enjoyed cycling holidays around the world with his wife Gilly he is now doing 45-minute sessions on his static cycle as well as completing a five-mile trip on the road.
"I have two friends who have had knee replacements at the same time as me and, even though I am the oldest among us – one is 20 years younger - I seem to be making much quicker progress on my road to recovery.
"I really do think it was the skill of Mr Arbuthnot combined with the technology of the Mako system that has allowed me to get back on my feet so quickly.
"I would say it's the only way to go and would have no hesitation in recommending it to others. If I ever have my other knee replaced then choosing the Mako surgery would be a no-brainer," he said.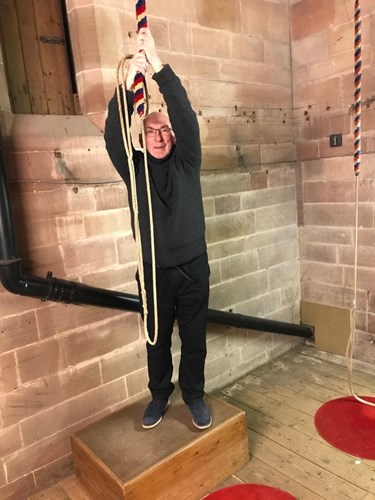 Pictured: Derek back in the swing of things tolling the tenor bell at Holy Angels Church in Hoar Cross.
Find out more about Robotic Joint replacements here or call our Private Treatment Adviser Team on 0121 580 7119, they will be happy to talk you through everything.