Vascular Awareness Month - September 2019
Vascular Awareness Month
Vascular disease is as common as cancer and heart disease and accounts for 40% of deaths in the UK - many of which are preventable. Vascular disease is the collective term for diseases of the arteries, veins and lymphatics and can affect every area of the body to which blood flows. We asked vascular surgeon Mr Mark McCarthy to tell us a bit more about his specialism.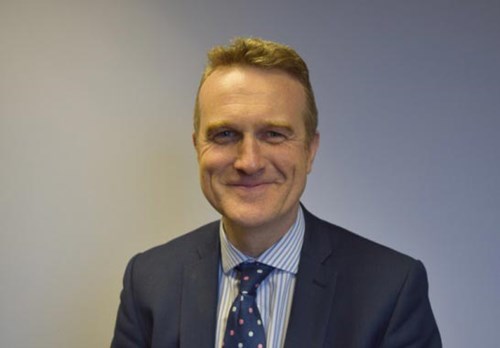 Mr Mark McCarthy - Consultant Vascular and Endovascular Surgeon
Vascular diseases
"Common diseases of the arteries include peripheral vascular disease (mainly affecting the legs with pain on walking), aortic aneurysms (blood vessel dilating disease), narrowing of the carotid artery (resulting in stroke) and painful leg ulcers (usually due to multiple blocked arteries in the legs).
Common venous diseases include varicose veins, deep vein thrombosis and leg ulcers and the most common disease of the lymphatic system is lymphoedema (leg swelling).
Risk factors
The main risk factors for vascular disease include being male, a family history of vascular disease, angina, heart attacks or stroke, high blood pressure, smoking, diabetes, being overweight, high cholesterol levels, an unhealthy diet, lack of exercise and stress; all of which can accelerate the formation of fatty deposits in the arteries.
Whilst arterial disease is very common, particularly amongst those who have smoked, and can be life or limb threatening, venous disease is far more prevalent - with one in three of us suffering from varicose veins.
Varicose veins
The clinical presentation of varicose veins differs, with many people being asymptomatic (having no symptoms). In the majority of people, varicose veins do not cause damage or become a threat to the limb but are associated with aching, itching, burning, cramps at night, and restless legs.
In some people with varicose veins, progression of the condition may result in more severe problems such as skin pigmentation changes, eczema, infection, superficial thrombophlebitis, bleeding, loss of subcutaneous tissue, lipodermatosclerosis and venous ulceration.
Treatment of varicose veins
Any patient who is considering treatment for varicose veins should undergo a duplex scan (ultrasound and Doppler) of the veins in their leg to help identify the problematic veins, assist in treatment planning and therefore reduce the risk of recurrent veins in the future.
The treatments available for varicose veins have become less invasive over the last 15 years with the majority of procedures undertaken as a daycase, some of which can be done under local anaesthetic.
Although varicose veins might look unattractive, for those patients with asymptomatic varicose veins, as with any procedure, treatment has to be considered carefully in light of the possible complications of intervention.
For those patients with symptomatic varicose veins, there is a 90% likelihood that intervention will eliminate pain, aching and other associated symptoms.

It is highly recommended that those patients with significant eczema of their lower leg or those who have developed significant complications  such as thrombophlebitis, bleeding, chronic pigmentation around their ankles or who have developed ulcers, should undergo prompt treatment of their varicose veins. This will reduce the incidence of further complications, help to heal ulcers that have developed and reduce the risk of these ulcers from reoccurring."
---
Mr McCarthy has a regular clinic here on a Monday evening. To book an appointment please call us 0116 265 3685.
---
As part of Vascular Awareness Month, which runs throughout September, health charity The Circulation Foundation is urging people to take a serious look at their diets, exercise regimes and alcohol consumption. Lifestyle choices have a massive effect on our health - but small changes can make a big difference. 
For further information about vascular disease and adopting a healthier lifestyle visit www.circulationfoundation.org.uk