Pet portraits exhibition set to raise funds for animal rescue centre
Passionate animal lover, Jess Carmichael, who works as a nursing administrator and team leader at Spire Leeds Hospital, is drawing on her artistic talent to stage an exhibition of pet portraits in April. She aims to raise awareness and funds, through the sales of her paintings, for the Lanta Animal Welfare Centre in Thailand following a stint of voluntary work at the Centre*.
Jess, 26, who lives in Leeds, was so moved by the plight of the huge numbers of stray dogs she saw whilst travelling in India she decided to do some voluntary work with animals.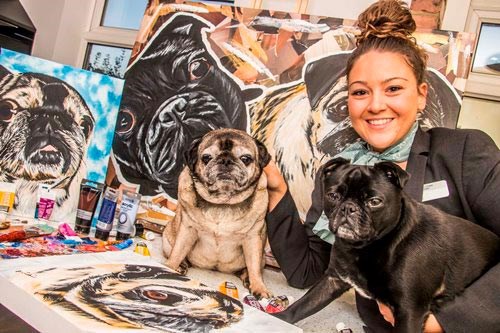 "It was heart breaking to see the packs of stray dogs, particularly on the beaches in India. They were skinny and covered in tics. One had puppies. I would take food for them each day," said Jess.
After returning to the UK and doing some research of rescue centres around the world she decided to use her annual leave and offered to volunteer at the Lanta Animal Welfare Centre in Ko Lanta, Thailand. She worked in the Centre's isolation and quarantine centre for three weeks in November/December 2017.
"Stray animals live in the centre until they are adopted and the animals are re-homed all over the world. Pets are not high on the list of priorities in Thailand and India as they are in this country. The Centre is doing great work to change this and its staff go into schools to teach children how to look after animals," said Jess, who has two pet pugs, Macy and Hugo.
Jess is now busy preparing for the exhibition, capturing the character and personality of the dogs with acrylics on canvas, from the photos she took in India and Thailand. She hopes the exhibition in April will raise awareness of the hardship of homeless animals and raise much needed funds for the Centre.
"The Centre is a non-profit charity and cannot operate without volunteers. It's a cause I believe passionately in and I wanted to work with the rescued animals there to see the other side of things. I know you cannot change the world but I felt there was something I could do to help," she added.
Last year, Jess saw a photo of the rapper, Tinie Tempah's dog on social media. She decided to paint a portrait of it and sent it to his record label. A couple of months later, Jess was surprised to see that Tinie Tempah had posted a photo of the portrait on his dog's Instagram page** and tagged Jess in it.
Jess is now planning her next 'holidays', which will involve voluntary work at other animal rescue centres around the world. "I have my eye on a few other places to volunteer," she said.
The exhibition is at the Café Sylva***, a dog-friendly cafe in Roundhay, Leeds (LS8 2FA), for one night only on Friday 13 April from 7pm to 11pm. Alternatively, anyone wishing to give a donation to the Centre can visit: www.simplygiving.com/lantaanimal_artexhibition.
* http://www.lantaanimalwelfare.com
** https://www.instagram.com/p/BZl1ZW1hDbm/?taken-by=youcantbepablo
*** Café Sylva, Louis House, Princes Avenue, Roundhay, Leeds LS8 2FA
Instagram: jessicaartisticpetportraits