Life changing surgery ends two years of suffering for sports therapist
After 'losing two and a half years of his life' following a knee injury, successful surgery at Spire Leeds Hospital has transformed life for Jonathan Arthey, a single dad from London.
Jonathan, 41, a highly qualified sports therapist who works for an NHS hospital in London, was able to return to work in November 2017 following 567 consecutive sick days away from his job after the injury threatened to wreck his life.
It happened in May 2015 when he was coming down the stairs at his home in London and twisted his ankle. "I felt something tear in my left leg," said Jonathan.
An MRI scan revealed a torn meniscus in his knee which was thought to be the problem and which was operated on a week later. He was however left with a painful "snapping" feeling when bending and straightening his knee.
Over the next two and a half years, Jonathan had various tests and surgeries. He saw several prestigious consultants in London privately and even paid for more tests overseas trying to find a solution to the problem. None of the surgeries helped and one consultant suggested it was "in his head" and he was referred to see a consultant psychiatrist.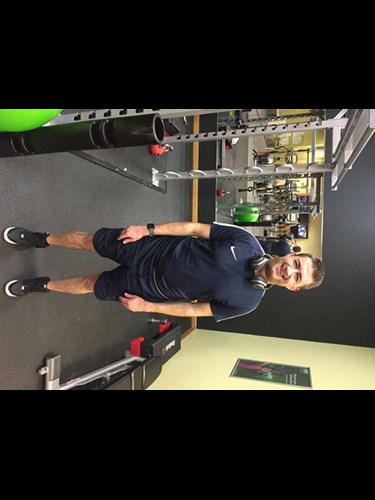 At his wits end and unable to return to work in September as scheduled after surgery, his condition worsened and he knew the pain was not imagined.
"I reached my lowest point when I thought that nothing could be done to fix me. My knee would lock and there was a high-pitched snapping noise in my knee when I tried to move it. It was very painful. I lost muscle mass and couldn't do any of the things I loved doing, including my work. I was extremely lucky to keep my job after having so much time off," said Jonathan. Who lives with his 18-year-old daughter, Bethany.
Jonathan spent some time researching and found an article written by Steve Bollen, consultant orthopaedic surgeon at Spire Leeds Hospital about 'snapping pes syndrome' which described the exact symptoms he was experiencing. He contacted the hospital immediately and arranged to see Mr Bollen.
"The consultation was distinctly different from the ones I had experienced before. Mr Bollen was not influenced by the findings of the consultants I had seen before. After careful examination, ultrasound and scans he said he thought further surgery might help. Hearing him say this was a massive relief. At last here was proof that I was not imagining it."
Jonathan had knee arthroscopy and postero-medial exploration of the knee the following week, in September 2017.
Commenting on the surgery, Mr Bollen said, "The principal diagnosis was a rare condition known as 'snapping pes syndrome'. Jonathan underwent arthroscopy where he had a plica (a remnant of knee development) in the back of the knee I'd never seen before (and I've done about 13,500 arthroscopies) which was removed, and then an exploration of the symptomatic side of the knee with removal of the structures likely to be causing the symptoms. This sounds dramatic but the tendons involved are routinely harvested for anterior cruciate reconstruction, without a great deal of morbidity. Surgery took about an hour."
After surgery Jonathan says he felt the difference immediately.
"After two years of 'dark' I could finally see 'the light'. The operation has changed my life and I now have a smile back on my face. All the symptoms are gone and I feel fitter than ever. I was able to return to work in November, which made me very happy."
After following a rehabilitation regime with physiotherapists at Spire Leeds Hospital, Jonathan has already eased back into the activities he loves such as cycling and rowing. He is also a keen runner and has not been able to run since his injury. He was ranked 86th in the country for 400m. He is now looking forward to running once again.
 "I will forever be indebted to Steve Bollen for giving me my life back. He was phenomenal."