A day in the life of...... Chris Johnson, Operating Department Practitioner
Name: Chris Johnson
Role: Operating Department Practitioner (ODP)
Department: Theatre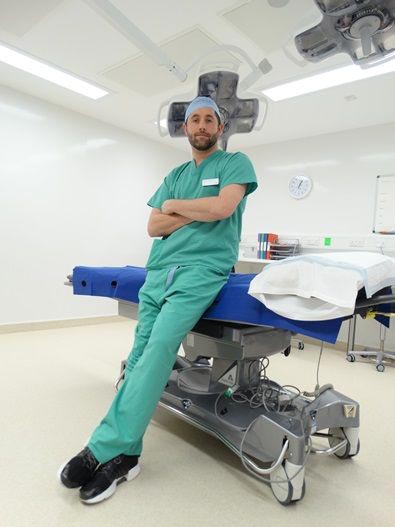 Chris has worked as an ODP at Spire Leeds for two-and-a-half years. He lives in York with his wife, Hannah and they are expecting their first child (a baby girl) later this year. In his youth, Chris spent 18 months in Australia playing semi-professional football but returned to the UK to take up a career in healthcare. He had always wanted to be a paramedic but found that his tuition fees could be fully funded if he opted to study to be an ODP instead.
To become an ODP, Chris spent a year doing an 'Access to Healthcare' course followed by a two year diploma in Operating Department Practice in Sheffield. Chris describes the role of an ODP as a "right hand man" to the consultant anaesthetist in the operating theatre. Here he gives us an insight into a typical working day.
5.45am - I get up early and walk our dog, Marvin.
7am - Arrive at work.
7am - 8am I take a look at the upcoming procedures and prepare the anaesthetic room with all the necessary airway equipment, drugs, and positioning equipment. I then set up the theatre with all the different machines and equipment required for that particular surgeon.
8am - I join the pre-surgery team brief to discuss the forthcoming operation list. We discuss any changes or additions and check that all equipment has arrived.
My day then usually includes working three separate operating lists – which can last anything up to four hours each. I do manage to squeeze a lunch break in between lists!
At university, we were taught that the official role of an ODP is to be a "Patient advocate throughout the perioperative journey", which means we're here to optimise patient safety before, during and after their surgery.
For example, this includes:
Checking patients in when they are brought to the operating theatre for their surgery
Running through a checklist with the patient to ensure everything is correctly recorded and the patient is suitable for a surgical procedure
Asking the patient what they have eaten or drunk to ensure that they are correctly fasted prior to their surgery.
Checking the hospital has full notes on any allergies and everybody involved is aware.
After checking the patient details and confirming that it's safe to proceed, we continue with the anaesthetic. Following this, we move the patient through to theatre where I attach all the relevant equipment for that procedure and carry out further checks which involve the whole theatre team.
I am often asked what my favourite parts of the job are. I enjoy the variety of the role - meeting different people and assisting with different operations in a fast-paced environment. I love meeting patients and helping them in any way I can. Many patients are obviously quite anxious before a procedure, no matter how big or small. I quite enjoy the role of lightening the mood in the anaesthetic room and taking the patient's mind off of things. I am always busy and also feel very much part of a team with the anaesthetist and my ODP colleagues.
8.00pm I tend to work long shifts so I don't head home until around 8pm. I then take Marvin for a walk if needed, before settling down for the evening with my wife.