Top tips for soothing children's winter infections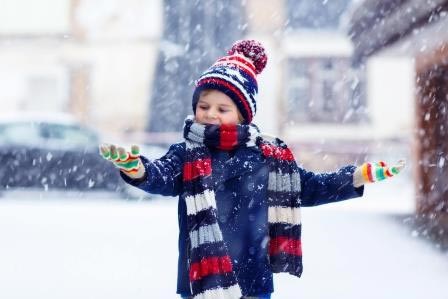 It's hard to see your child in pain from a nasty sore throat or an ear infection, even worse if they are too young to tell you what is wrong. These wintry infections are often unavoidable, so Mr Sam Khemani, Consultant ENT Surgeon offers some top tips on how to help soothe the pain and advises on when to seek medical help.
Sore throats: Sore throats are very common and are nothing to worry about. They are often caused by a viral infection and clear up on their own after a few days. Occasionally, allergies or reflux can also cause sore throats.
It is important to encourage your child to keep eating and drinking fluids - tempt them with small portions of their favourite foods and perhaps an ice lolly to soothe a sore throat. If they don't eat, it can lead to them becoming more unwell.
Often a sore throat is accompanied by a blocked nose. If this is the case, try salt water drops to help clear the nasal passages.
If your child is distressed and in pain, then paracetamol and ibuprofen can be given – check quantities and frequency with your pharmacist.
Some sore throats are caused by a bacterial infection called Streptococcus. This infection is usually worse than a viral sore throat, and is often accompanied with a fever and swollen glands in the neck, and a filmy coating on the throat and tonsils. Your child will feel quite unwell and if this continues for more than 48 hours, visit your GP who may prescribe antibiotics.
Bacterial infections spread easily, so encourage your child in good hygiene practices such as washing hands before eating and after coughing and sneezing. And you will need to keep them off school or nursery for a few days.
Tonsillitis: This is a sore throat combined with difficulty swallowing. It is common in children, teenagers and young adults. Often your child will have a temperature, may even complain of earache or a headache, and the tonsils may have white patches on them. Again, tonsillitis is often viral, in which case antibiotics will not help but symptoms should pass within three to four days. But if it is bacterial tonsillitis, the symptoms will be more severe. Visit your GP if your child is still feeling unwell after 48 hours and antibiotics may be prescribed. 
Most bacterial infections in children improve within 48 to 72 hours of starting an antibiotic. Make sure your child finishes the course of antibiotics – stopping too soon could mean the infection is not treated completely and the symptoms may start again.
If your child is finding it painful to swallow, use a sore throat spray (available from the chemist) to numb the throat. However, if they are becoming dehydrated because they can't swallow liquid, seek urgent medical attention from your nearest walk-in centre or A&E.
If your child has tonsillitis more than five times a year they may need a tonsillectomy. It's a procedure that takes around 20 minutes under general anaesthetic and is usually performed as a day case. A new procedure is now being offered by some ENT surgeons called `intracapsular tonsillectomy". This is performed using a technique known as 'coblation' and is a much gentler operation with a faster recovery period and less risk of complications.
Ear infections: The most common type of ear infection in children is called 'acute otitis media'. It is an infection of the middle ear, behind the eardrum. It often follows a cold as bugs are picked up from the throat and nose.  It is extremely painful – babies will cry and tug at their ear which will indicate an ear infection.
This type of ear infection is nearly always caused by viruses and should settle down after 48 hours. While a warm towel and cuddles will bring comfort, pain can be reduced with paracetamol and ibuprofen.
Sometimes the ear infection will lead to a perforated eardrum -  this is nature's way of coping with the infection, allowing it to drain out. When the eardrum perforates, the pain will ease and the fever will stop. Your child might be slightly deaf – equivalent to the hearing loss from putting a finger in the ear - but this should rectify itself after a few weeks.
When the eardrum perforates, you are likely to see a discharge. Use a clean cloth to wipe the outside of the ear, but do not insert ear buds into the ear canal.
In older children and adults, another type of ear infection can take place in the ear canal, towards the outer part of the ear. This is referred to as 'otitis externa' and is often caused by swimming or eczema in the ear canal. It can be painful, is accompanied by a thin discharge and can cause temporary hearing loss. 
If your child has more than five episode of middle ear infections a year, ask your GP to be referred to an ear, nose and throat specialist for further investigation.
In addition to extensive experience in the medical and surgical management of general ENT conditions, Mr Khemani also has an active interest in all aspects of paediatric ENT. 
His top tip to help a child with a bunged up nose from a cold is to use a saline nasal spray: "It is my most used remedy at home. It is simple, but works very well and helps young children to breathe more easily. It is especially good when babies have colds as they struggle to breathe through their mouths, so a nasal spray will help clear their nasal passages." 
For more information or to book an appointment with Mr Khemani, please contact us either online or by calling 01293 778 906.
The content of this article is provided for general information only, and should not be treated as a substitute for the professional medical advice of your doctor or other healthcare professionals.