Styletto: Style meets performance
The Signia Styletto is the world's first SLIM-RIC hearing aid to combine premium hearing technology with the most stylish design.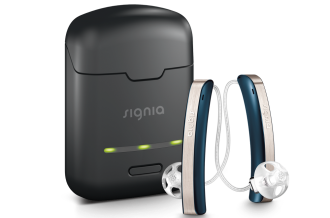 Unlike traditional hearing aid styles, its slim design and modern colour combinations render Styletto more than just a hearing aid – it's a piece of hearwear™.
Styletto's slim and sleek design is discrete, modern and stylish. Its ground-breaking new form factor is accomplished by maintaining all the key features necessary for optimum speech understanding, sound quality and listening comfort. It offers a crystal clear, natural-sounding environment to its wearers as well as the unique Own Voice Processing (OVP). OVP processes your own voice completely independently from all other voices and the wider soundscape, so that the wearer's voice sounds as natural as possible.
Styletto also adapts to your lifestyle ensuring you are in control of your hearing – not the other way around. Discreet remote-control options from your smartphone via the touch control app or your keychain with the mini pocket, make it easy to adjust to any situation.
Thanks to Styletto's new charging paradigm, users can enjoy a full-day wear, enabled by unique lithium-ion batteries and charging-on-the-go via an ultra-slim, portable charging case. Many hard-of-hearing individuals who use hearing aids spend extra money replacing batteries, and this is a marginal cost that can stack up against you. Even worse, it can be difficult to find hearing aid batteries while travelling. Styletto comes equipped with fully  rechargeable lithium-ion batteries. These last a full day in between charges, giving you time to live your life and charge them while you sleep. You also don't have to worry about your hearing aids running out of power while you're away from home - holding an additional three full charges before needing a boost, the charging case ensures you always have a fresh power supply wherever you go!
So, whether you're paying a visit to relatives a few hours away or flying to a weekend city getaway, there's no need to find a wall socket for four days (if your hearing aids and charging case are fully charged)! This gives you freedom to live your life, without being held back by your hearing loss. Enjoy the world around you, and don't settle for anything less than extraordinary.
Advice from Mr Prince P Punnoose, Audiologist at Spire Gatwick Park Hospital. Call on 01293 778 906 to find out more.