Preparing your child for a stay in hospital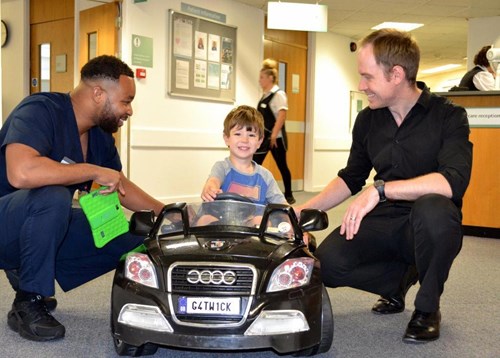 Going into hospital for a surgical procedure can be scary for anyone, but when it's your child having the operation, that anxiety is emotionally charged. But you can lessen the stress for both of you. Spire Gatwick Park Hospital's Lead Paediatric Nurse, Femi Omowo, advises on how best to prepare your child for an operation.
"Children can be naturally anxious, so if you can make every step of their journey to the operation as child-friendly as possible, they will be less anxious and, in turn, so will you," says Femi.
After nine years in paediatric nursing, including time spent at the famous Evelina Children's Hospital in London, he knows more than a thing or two about preparing a child for an operation.
"Distraction is the key to unlocking anxiety in both child and parent," he says. "If a child is happily distracted with a toy or a book, then the parent can concentrate on what they are being told about the surgery and after care."
Distraction should begin from the moment a parent and child come to the hospital for a pre-assessment. Give your child a toy or book they haven't seen before or not played with in a long time. Computer games or cartoons work best, so while your child is engrossed in the small screen, you can concentrate on answering questions about medical history and learning about what the surgery involves.
A large proportion of the operations in children aged between three and 10 years are ears, nose and throat procedures – that covers grommets, tonsillectomies and adenoidectomies. However, after a referral from your GP, a consultant will explore all non-surgical avenues first and will only recommend surgery if necessary.
When it comes to explaining to your child that they are going to have an operation, use simple language and make it exciting (see Femi's tips). For example, "The doctor is going to fix your ears and you will have supersonic ears".
If you still have questions after the assessment, don't hesitate to call the paediatric team.
"I carry a mobile with me at all times and always happy to take calls from worried parents any time of the day or night," says Femi. "If you give parents all the information they need, it makes a massive difference on the day. If a parent is anxious that leads to an anxious child. We can't take that anxiety away completely, but we can help reduce the stress by preparing them and giving support before and after surgery."
On the day of the operation, avoid battles over clothes – paediatric nurses are used to seeing children arrive and even go down to theatre in a princess dress or Spiderman outfit, so let them wear what they feel happy in. At Spire Gatwick Park, they create an environment that is relaxed and comfortable and one of the ways they do this is by letting young children to drive themselves to the theatre in a remote-control car.
Let them bring a favourite toy that can go with them into the theatre. Waking up in the recovery area can be emotionally distressing, so a favourite toy on the end of the bed can help.
Most importantly, Femi says put your trust in your hospital's paediatric team and ask as many questions as you need to.
"We are used to working with children so trust us -  our main job is to make sure children are not in pain," he says. "In a short space of time, we can make a massive impact on their health and well-being. I get so excited when a kid says to me 'I don't want to go home, I like it here'."
How to tell your child they are going to have an operation
How much information you give your child will depend on their age. Older children and teenagers will want to ask questions and to know more. Be guided by them. For younger children, Femi has these tips:
Talk to your child at least a week before surgery and do it while you are enjoying an activity together.
Use simple language, not medical terminology, and only spend a short time telling them.
If they ask 'is it going to hurt', say it might sting a bit or you might feel a slight scratch but the nurse will give you a special cream to make it better.
Seek out books on preparing your child for an operation that you can read together, or check YouTube for video clips on the subject.
Never lie to them – you risk breaking a trust and that can cause more stress for the child in the future, especially if they need repeat surgery.
For more information on Spire Gatwick Park Hospital's paediatric service call (01293 785 511).