Looking after your health during the party season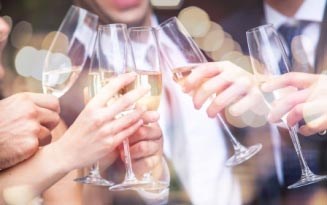 This time of year is all about excesses – too much food, too much alcohol, late nights and not enough sleep. And the knock-on effect of that is tiredness, low moods and feelings of regret over weight gain or loss of fitness levels. Clients come to see me after Christmas and say they feel they have gone back to square one as far as their health is concerned. It seems that you can put on weight twice as fast as it took you to lose it. If you've been regularly going to the gym for six weeks, it will take just three weeks for your body to return to its previous fitness level if you have had a break from your regular exercise routine.
But, with a little planning and a few key tips, you can reduce the impact of the festive season on your health and waistline without having to be 'party pooper'.
Take more water with it: keep your body hydrated by taking sips of water regularly throughout the day and intersperse alcoholic drinks with a glass of water when you're out celebrating. Dehydration can impact on joint health, cause low mood, and affect digestion. Carbohydrates retain water, preventing the body from absorbing it. So, if you're eating more carbohydrate foods, such as sausage rolls and mince pies, increase the amount of water you drink.
Snacking: party snacks are a key contributor to weight gain for two reasons - they are high in fat and they tend to be salty which causes thirst and means we are likely to drink more calorie-laden glasses of wine and beer. Nibble on unsalted nuts and dried fruit instead, and if you love dips, serve them with vegetable batons rather than bowls of salty tortilla crisps.
Quality control: if you are drinking an expensive bottle of wine you are more likely to sip it slowly and drink less of it. So instead of being tempted by seasonal cheap booze which is guzzled quickly, invest a bit more in a fine wine and savour it. Eat lovely food, but aim for smaller quantities of higher quality – so forego the sausage rolls for delicious smoked salmon on rye bread for example.
Compensate: Book an extra gym session or exercise class the week leading up to or after the office party. Or take the whole family for a Santa Run to burn off the mince pies. Woking and Sam Beare Hospices are holding theirs on Sunday, 3 December starting and finishing at Woking Leisure Centre. On the same day, Princess Alice Hospice hosts a festive run around Richmond Park. The popular YMCA East Surrey Santa run takes on Sunday, 10 December with races for Santas of all ages, starting from 10.30am in Reigate's Priory Park.
And don't forget to look after your party feet: Heels alter your posture, putting a strain on your lower back and pelvis so keep the amount of time you spend in them to a minimum. Wear a pair of trainers or low heels (less than 2cm) to and from the party venue.
And when the morning after isn't looking so bright… If you've overeaten the day before, don't be tempted to fast as you are more likely to succumb to high sugar, high fat foods later in the day when you are hungry. Instead, eat small portions of good protein-based foods such as eggs, chicken breast and fish.
And if you are feeling hungover, the answer is to re-hydrate and restock the body with vitamins. Drink water and electrolyte drinks. Don't guzzle them, but sip slowly every 20 minutes. Have a high vitamin breakfast, such as fruit and yogurt or a smoothie, and try eating small bowls of fresh soup every three hours as they are packed with vitamins.
If you do one thing this month… Check out the National Trust Winter Wonderland Walks to blow the cobwebs away and work off any excesses. Why not power walk the four and half mile circular route linking Ham House and Gardens to Richmond station.
And another thing... The Hogs Back Road Race returns for its 56th year on Sunday, 10 December at 9am. It takes runners around the Loseley Estate and over the Hogs Back. Cheer on the runners or take part yourself.


Ben is an Exercise Physiologist and Health Advisor at Spire Gatwick Park Hospital, Personal Trainer, and Head Coach for Horley Harriers Running Club too. He is available for health assessments Monday to Thursday. Call on 01293 771913 to find out more.