Ironman athlete gets back to peak fitness after cycle accident
Forty-five-year-old Jim Haysom of Crawley had only recently qualified for a place in the Half Ironman World Championships 2021 when he was injured in a freak cycle accident.
He had popped out from his home on a local errand when a strong crosswind pushed him and his bike into a lamppost at 30 miles an hour. He lost skin tissue on his hip, needed hand therapy for months afterwards and was left with a painful right shoulder with a limited range of movement.
The accident happened in August 2020, but it wasn't until early this year that Jim realised his shoulder wasn't getting any better.
"I was in pain and had a limited range of motion. I couldn't lift my arm to hug my wife or children properly. I couldn't do simple things like lift boxes in the garage or reach into a high cupboard. And I was worried I wouldn't be able to swim front crawl for even a short distance let alone the 1.2 mile swim leg of a Half Ironman distance triathlon."
He made an appointment in February with Mr Arvind Mohan, Consultant Orthopaedic and Upper Limb Surgeon at Spire Gatwick Park Hospital, Horley. Following an MRI scan, Mr Mohan diagnosed a shoulder impingement – where the tendon inside the shoulder catches on nearby tissue and bone when the arm is lifted. He treated Jim with a steroid injection into the shoulder and this was followed by three months of physiotherapy with hospital physiotherapist John Fairley.
As well as physiotherapy, Jim did exercises at home on his shoulder three times a day and by June this year, he was free of pain and ready to take part in a number of triathlon races across Sussex to prepare for the ultimate race - the IRONMAN 70.3 World Championship held in Utah, USA.
Local triathlons saw Jim swimming in the sea at Eastbourne and swimming pools in Burgess Hill and East Grinstead, with open water training sessions in his local lake at Tilgate Park. He also did swim training in his local gym to make sure his shoulder was fully ready for the challenge.
But he was dealt another blow when COVID restrictions meant he couldn't travel to the USA to take part in the World Championship. Jim decided to defer his place to a future World Championship (Finland, August 2023) and instead looked for a local event - "I just needed to prove to myself that I could complete that distance, having spent a year and over 400 hours of training."
On 26 September, he took part in The Gauntlet - a Half Ironman distanced race at Hever Castle in Kent. The race included a 1.2 mile (1.9km) swim in the castle lake and up the River Eden, followed by a 56 mile (90km) hilly cycle ride around the Kent countryside and Ashdown Forest, and then a 13.1 mile (21.1km) off-road run, which is a half marathon.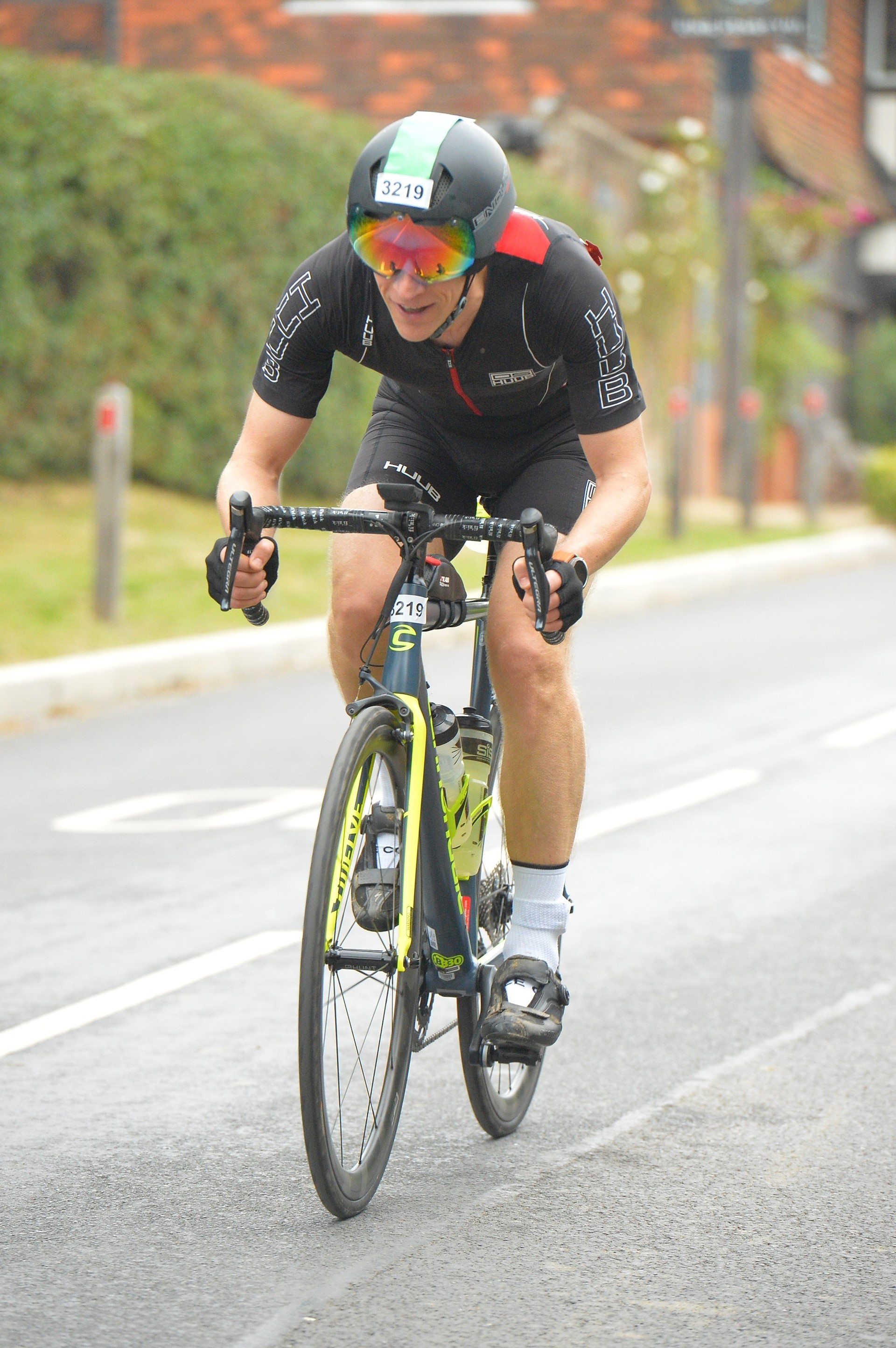 Jim cycling in the Half Ironman. photo credit AWOL Media
Jim came in 8th place overall for his age group (45-49) and, while he admits he came last in the swim section, he is proud that he was able to complete it.
"My biggest goal was to complete the swim, no matter how long it would take, as I knew I would have a strong bike and run afterwards. This was a tough Half Ironman distance race, and I'm really pleased to have completed it."
"I am so relieved that all I needed was an injection and physiotherapy to cure my shoulder.   I was very worried that I would need surgery and if that had been the case, I wouldn't have been able to recover in time for the race."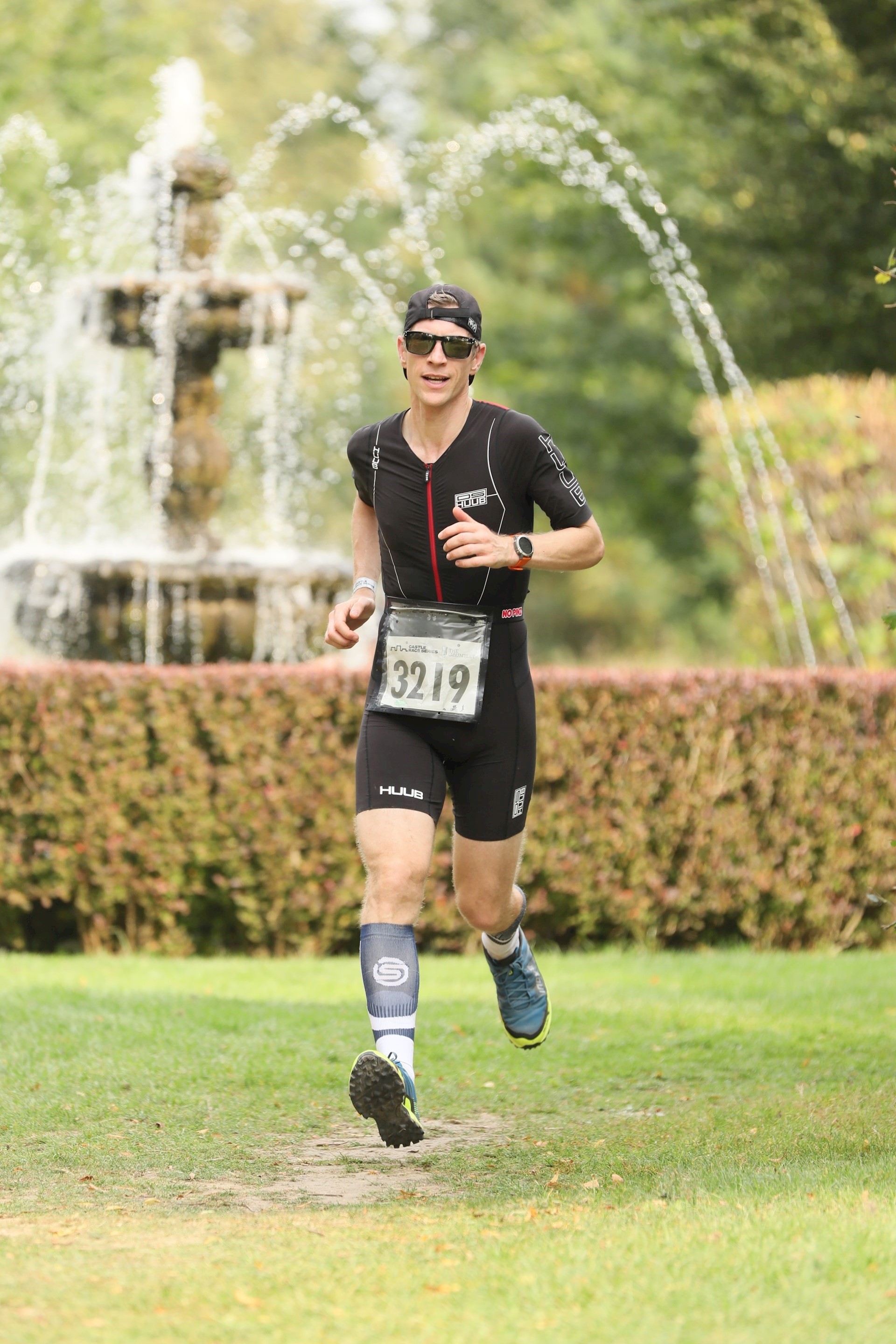 Jim running. photo credit AWOL Media
What the surgeon says
The ripple effect of the COVID-19 pandemic continues to show itself in the most unpredictable ways. For example, the upsurge in working from home has led to an increase in shoulder injuries, according to Mr Arvind Mohan, Consultant Orthopaedic and Upper Limb Surgeon at Spire Gatwick Park Hospital in Horley.
"I've seen more patients coming to me since the pandemic with a rotator cuff strain of the shoulder caused by working from home in a space that is not ergonomic," he says. "Particularly young people who may be in small flats and have been leaning over their coffee tables to work on their computers."
A rotator cuff injury is an impingement of the tendons inside the shoulder which catch on nearby tissue and bone when the arm is lifted. It can be caused by wear and tear or a sudden injury, and leads to inflammation of the muscles and tendons, causing pain. The shoulder will have a limited range of movement making everyday tasks like brushing hair or reaching into cupboards difficult.
"Seventy per cent of patients will get better within a few months following a steroid injection into the shoulder and physiotherapy. And the vast majority don't need any more treatment," adds Mr Mohan. "But the longer you leave it the worse it will get. People will soldier on for years with an impingement in their shoulder until one day it becomes a tear which may then need surgery."
On Thursday 21 October, Mr Mohan will be speaking at a free patient evening about the causes, treatments and outcomes for elbow injuries and shoulder problems such as rotator cuff injury and frozen shoulder.