Hearing and hearing disorders
How do we hear? 
When sound is produced, sound waves are channelled into the ear via the ear canal, towards the eardrum. The sound hits the eardrum, and causes it to vibrate. This vibration is then passed along the three small bones of hearing (ossicles) to the cochlea where the sound vibration is converted into nerve signals which are then passed along the hearing (auditory) nerve, to the hearing centre of the brain (auditory cortex), where the sound information is processed.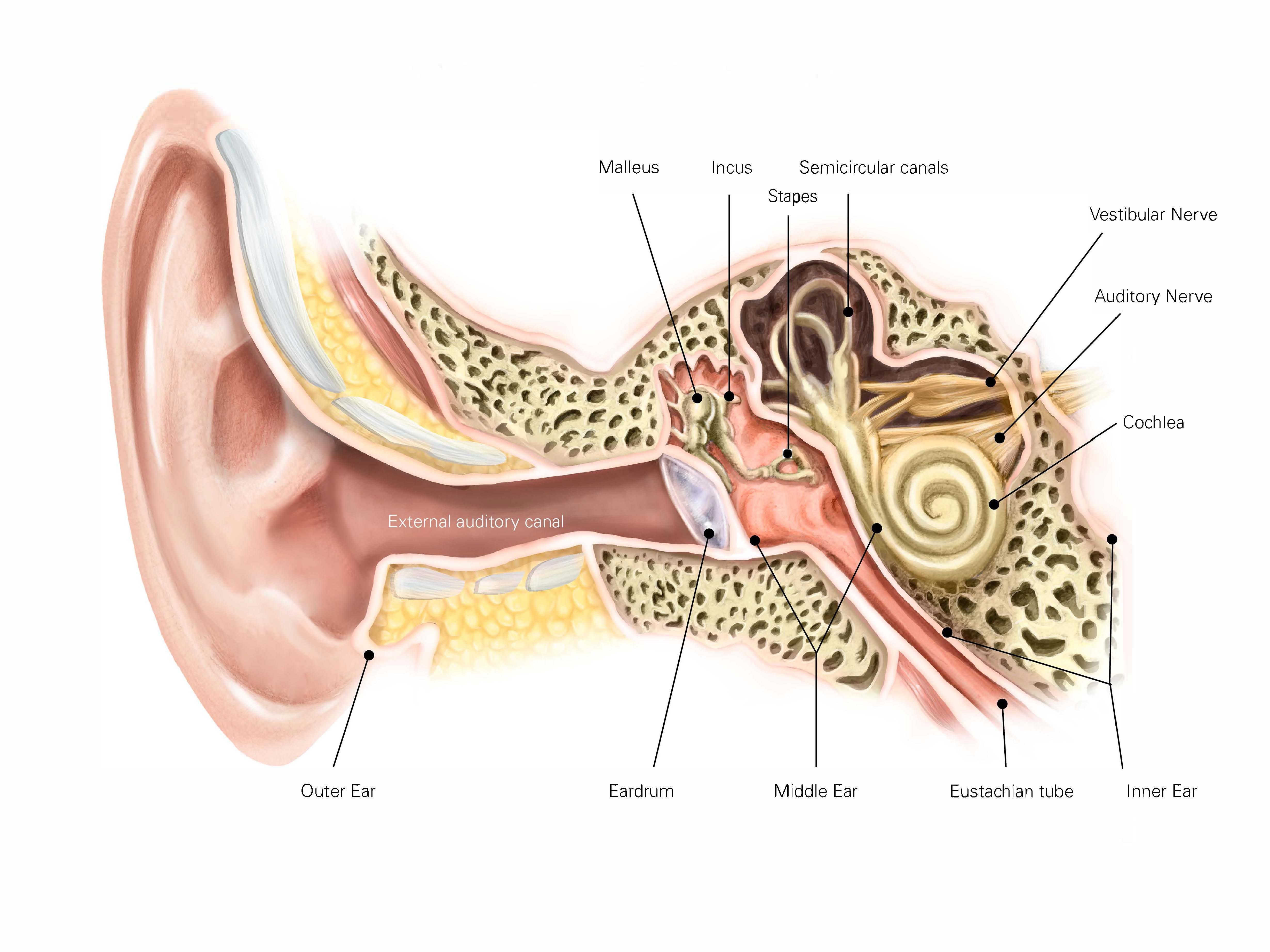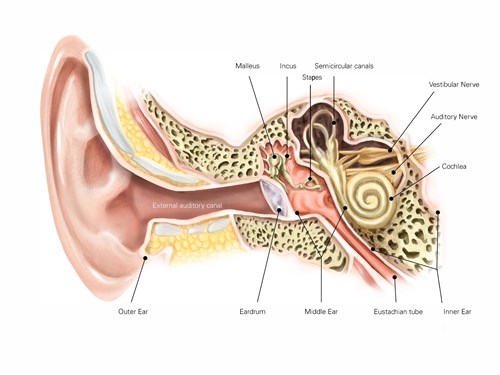 There are many different causes of hearing loss but they broadly fall into one of two categories, 'conductive' hearing loss or nerve related 'sensorineural' hearing loss. 
Conductive hearing loss (CHL) is when there is a problem with conduction of sound anywhere along the path of the ear canal, eardrum, or the bones of hearing (the malleus, incus, and stapes). Conductive hearing loss is often very treatable, usually with medicines or surgery. 
Common causes of conductive hearing loss: 
Outer ear infection - infection in the ear canal
Impacted earwax or foreign bodies in the ear
Fluid behind the eardrum - from middle ear infection or glue ear
Perforated eardrum
Eustachian tube dysfunction
Problems with bones of hearing - from trauma, surgery, genetic stiffening of stapes (Otosclerosis)
Sensorineural hearing loss (SNHL) is nerve-related hearing loss. This type of hearing loss is often irreversible, but can be very amenable to hearing aid devices.
Common causes of Sensorineural Hearing Loss: 
Exposure to loud noise
Aging (presbycusis)
Head trauma
Virus
Ménière's disease
If you are concerned about potential hearing loss, you would benefit from consultation with an ENT specialist who will arrange a full examination, including complete hearing assessment. Based on the results, they will be able to advise on the likely cause of any hearing loss and possible treatments. 
Advice from Miss Natasha Choudhury, consultant ENT Surgeon at Spire Gatwick Park Hospital. Call on 01293 778906 to find out more.