Myths, mysteries and misconceptions: glaucoma
Spire Elland aims to answer many common health questions, so we asked our world-class experts for their expertise. Consultant Ophthalmologists Mr Ziad Estephan, Mr Karnesh Patel and Mr Gbemi Oworu answer your questions about glaucoma.
If you have 20/20 vision and no symptoms, is it true you won't develop glaucoma?
Mr Karnesh Patel: "Glaucoma comes in many types. However, the basic premise is that the pressure in the eye (whether high or not) results in damage to the "optic nerve." This is responsible for sending the visual signals from the eye to the vision centres in the brain. At the earlier end of the spectrum, this tends to show itself through visible changes when looking at the optic nerve, or through damage to your visual field (which is how much you can see)."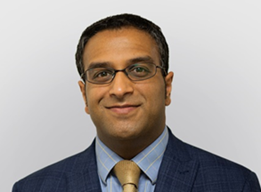 "Because the brain is very good at covering up such visual field damage up to a point, a person may have no idea how badly their visual field is affected until it is formally tested (or until the damage is quite advanced). It is important not to get confused between the terms visual field and visual acuity (which is how sharp you can see something). When people normally talk about 20/20 vision (American units, it's 6/6 in the UK), this is a measurement of visual acuity (how far down the chart you've read). You can have a significant loss of visual field and still have a good eye visual acuity because what is left will still function well.
"It is also important to note that most types of glaucoma come on slowly, and thus the eye is able to adapt to any changes in eye pressure levels that occur. In these situations, there is no pain caused by any rise in eye pressure, so this is not a reliable measure of whether you are fine or not."
Does glaucoma only affect the elderly?
Mr Ziad Estephan: "Although glaucoma is much more common in patients aged 50 and above, it could happen at any age even in children and new-born babies (juvenile/congenital glaucoma). In addition, glaucoma could occur as a secondary process to other eye diseases like inflammation inside the eye, bursting retinal veins due to occlusion, bleeding inside the eye and as a complication of eye surgery. There are many other diseases that could lead to glaucoma, as well as trauma to the eye or recurrent inflammation."
Is glaucoma inherited?
Mr Gbemi Oworu: "Glaucoma is a common eye condition in which the optic nerve (which connects the eye to the brain) can become damaged due to a build-up of pressure inside the eye. It is most common in adults in their 70s and 80s although all age groups can be affected. The most common type of glaucoma, primary open-angle glaucoma, is hereditary. A person is more likely to develop this type of glaucoma if there is a family history of glaucoma."