Spire Elland working with Jacobs Well Appeal
For several years, Spire Elland Hospital has been working with the Jacobs Well Appeal based in Hull. The charity aims to provide access to medical items to struggling communities across the world. So far they have been able to support projects in many countries that are in desperate need of assistance, including Ghana, Kenya, Sierra Leone and Rwanda.
Paul Lumb, from the Stores department at Spire Elland Hospital, has been coordinating the initiative for over three years. It involves recycling old medical equipment once it is no longer required within the hospital.
Paul states: "If someone can get use out of items we no longer use, this is great. We recycle what we can and in this case, the items go to an amazing cause. It's the little things that count towards making a difference and this definitely helps". Paul also chooses to attend the annual charity ball which is another opportunity to raise funds for the cause.
Last year the Jacobs Well Appeal shipped around £2.6 million of medical equipment. This year's focus is on countries struggling within Europe as well as starting new agriculture projects in Africa.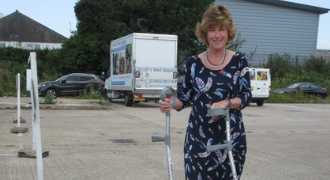 Officer manager Bridget Conroy with a number of donated items from Spire Elland Hospital.
View more information on the Jacobs Well Appeal.