Macmillan Coffee Morning 2019
On 27 September, Spire Elland Hospital hosted the annual Macmillan Coffee Morning. Staff from each department of the hospital competed against each other in an attempt to win The Star Baker prize.
We had two winners. One for the best tasting cake and one for the best designed cake. Elaine Hepworth from the Medical Records department won the best tasting cake with her 'Gin and Tonic Cake' and Sarah Keys representing the Governance Department won the best design with her 'Bristol Stool Tart'. However, everyone who baked for the event were winners, because if it wasn't for them the event wouldn't have been such a success.
The day was a great occasion all around with £305.48 raised for the cause. Adele Burrough, a Macmillan representative at our local branch, came along to see how much we raised. Adele said "I think it's absolutely incredible the amount you raise! The difference this will make we to people affected by cancer is huge. Just to show the difference you have made, it costs £17 to produce 200 of our signs and symptoms cards. The money you have raised could help us to fund 3400 copies which will help support a large amount of people. A huge thank you to everyone involved!"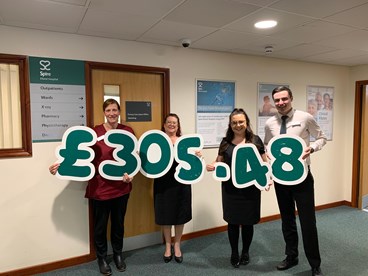 It was a great day all around and once again thank you to all staff who took part.