Reframe Rheumatoid Arthritis
Many people have heard of Rheumatoid Arthritis (RA) but, incorrectly, believe it's caused by advancing age or overuse of joints. Here at Spire Dunedin Hospital, with the help of Consultant Rheumatologist Antoni Chan, we're hoping to raise awareness of the condition that can be controlled and stabilised with targeted treatment, so that sufferers are able to lead normal lives.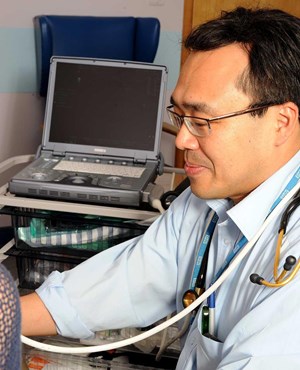 Treatment of Rheumatoid Arthritis benefits from early diagnosis and many GPs are aware of the three "S's". Thus, if you have pain, Stiffness and Swelling, with pain on Squeezing, you should discuss with your GP the possibility of RA. Once referred to Dr Chan, here at Spire Dunedin, you will be examined with a complete history of your condition recorded. Any non-pain related symptoms will also be discussed. This is because RA is not a pure joint problem – those suffering with the condition can experience fatigue, independence and work issues, meaning that a holistic approach to initial analysis is important.
After this initial discussion. blood tests will be taken, as well as X-rays, MRI or ultrasound scans. Here at Spire Dunedin Hospital these are all on-site, with minimal delay experienced as a result.
Treatment of RA involves pain relief, possible injections to help reduce inflammation, and the use of disease modifying drugs anti-rheumatic drugs called DMARDs. In some cases, antibody based treatment called biologics are used. The aim is to prevent long term damage and patients will have a personalised plan with specific targets such as inflammation reduction or increased mobility leading to more independence. You will also be referred to other team members such as our physiotherapists, who are also on site at Spire Dunedin.
Regular progress will be monitored with further assessments for infection control, osteoporosis, cardiovascular issues, and psychological health, as mental and physical wellbeing are closely linked. Once the condition is stable a shared protocol with your GP will mean blood tests are taken as required and a yearly review advised.
With a lot of research currently underway internationally, treatment of RA is a lot better than used to be the case, with no requirement for hospital stays – some patients even cycle to their appointments! Treatment can be life changing with sufferers returning to work and even playing Saturday football. If you have symptoms, don't cope on your own – we're here to support you.