Show yourself some TLC this October - be Breast Cancer Aware
Here at Spire Dunedin Hospital we aim to help reassure those worried about a breast symptom by providing a screening process that has a minimal waiting time for results. 99% of patients undergo imaging straight away.
These checks are suitable for individuals of any age, male or female, who have developed symptoms such as a breast lump or breast pain, discharge or nipple inversion. Nearly 400 men in the UK are diagnosed with breast cancer each year and it is thus important that everyone is 'breast aware'.
Performing these tests at our One Stop Breast Clinic reduces the stressful wait of the standard diagnostic pathway, meaning any treatment that is needed can be started promptly.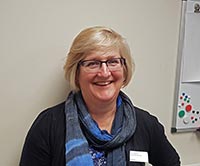 From the moment you walk into the clinic, a multi-disciplinary team including consultants, radiologists, radiographers and our specialist nurse Nicola Davie with experience in the treatment of breast cancer, will be on hand. (Nicola Davie, breast symptom and surgery nurse, pictured)
When you meet the Consultant Oncoplastic Breast Surgeon, Mr Brendan Smith, a full family, medical and lifestyle history is taken and an examination will be carried out.  A digital mammogram can then be taken as well as an ultrasound, if needed. If a lump is present a fine needle aspiration cytology or core biopsy can be carried out with biopsy results available within a week. A follow up can be arranged so that the patient is seen within days, if necessary.
We try to be flexible and arrange appointments around family and work commitments and you will be supported with patience and understanding.  If surgery is required, Mr Brendan Smith offers a fully comprehensive range of oncoplastic and reconstructive breast surgery, including therapeutic mammoplasty procedures and immediate breast reconstruction.