A rower who was in such excruciating pain she couldn't walk is now racing again, after a hip replacement operation by a surgeon who has just scooped a top award.
Anglesey holiday cottage owner and all-round action woman Sian Davies paid tribute to orthopaedic consultant Mr Muthu Ganapathi for turning her life around.
She was delighted to hear that Mr Ganapathi, who works at Spire Yale Hospital in Wrexham and the Spire Consulting Rooms in Abergele, had been named as the best hip and knee surgeon in North Wales.
Sian, who only took up rowing four years ago, was astonished to be back in the sea within three months of undergoing her major operation.
She said: "It was incredible. I'm so fortunate to have been treated by Mr Ganapathi. There's no question he really deserves this award."
Mr Ganapathi received a commemorative glass trophy, for his pioneering advances in hip and knee surgery, in the 2017 Global Health and Pharma (GHP) Private Healthcare Awards, which recognise outstanding achievements of individual doctors and medical organisations.
Sian, 56, of Beaumaris, has already put her new left hip through some rigorous paces, including in Ireland's premier rowing race the Ocean to City – An Rás Mór, at Cork last month.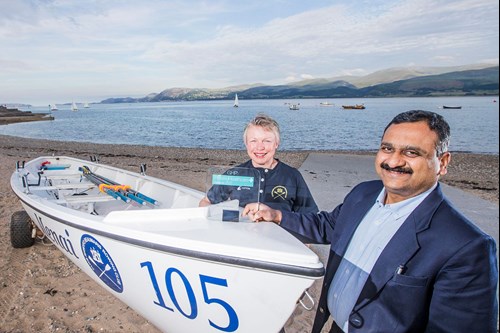 Now she is eagerly looking forward to joining fellow Beaumaris Rowing Club members on board a Celtic Longboat to compete in the 13 mile Castle to Castle race off the North Wales coast on July 15 from Beaumaris to Caernarfon. Before that she'll be competing in the 12 miles Puffin Race on July 9, from Beaumaris around Puffin Island.
Before surgery she said walking anywhere was agony but now she is more than ready to tackle physical and mental challenges.
She said: "The pain was draining on my emotions as well as body. My future was looking very bleak indeed but those dark days are well behind me thanks to Mr Ganapathi and his team. I want to congratulate him on receiving his award."
Mr Ganapathi is thrilled Sian is doing so well and believes the success of her operation is testimony to the years of valuable work he has done in the hip and knee surgery field.
Having trained in orthopaedics in Wales and completed an arthroplasty fellowship in Cardiff, he undertook further training in Canada and the USA before being appointed consultant orthopaedic surgeon at Ysbyty Gwynedd, Bangor, in 2008.
He said during his fellowship in Canada he gained invaluable experience managing hip impingement problems which are increasingly considered to be a cause of hip pain in young adults and often lead to hip arthritis at a younger age than commonly expected.
He is one of the few surgeons in Wales skilled in managing hip impingement through the use of arthroscopy, a form of keyhole surgery.
Even with full hip replacements, his methods focus on minimising the invasiveness of the procedure and reducing scarring to enable a speedier patient recovery.
He said: "Sian was very determined to get back to the life she has always lived. She has amazing will power."
Former public health worker Sian has always kept herself fit, having run two London marathons, climbed 14 mountain peaks and completed the Cardiff half marathon.
She also walks a lot and cycles but her action-packed leisure pursuits had to stop after she was struck with severe pain following a half marathon in October 2015.
She said: "I'd been suffering some discomfort for about five years but after the half marathon it got much worse. I struggled to walk at all. Scans showed a large cyst on my hip and my GP said there was no choice but to operate. I've always led an active life so it was a huge blow. I was at a stage where I was unable to carry out even simple tasks."
Sian heard about Mr Ganapathi from a friend on whom he had performed knee replacement surgery.
She said: "It was not an easy decision having the operation or choosing to go private as I've always been a huge supporter of the NHS, but I really had no choice if I wanted to get my life back, so I booked in for a consultation. I'm so glad I did.
"I now have a hip made of ceramic and titanium, I'm back rowing and the last time I looked at my Fit Bit it told me that since the operation on May 10 last year I had amazingly walked 736 miles in steps which equates to the length of Italy!"
In addition she's keen to get back on her bike and resume her role as an Isle of Anglesey council children's cycling instructor.
She said: "I feel very lucky not to be in pain anymore and the whole experience has made me much more sympathetic towards people who do experience chronic pain."
"From the consultation to the operation itself at Spire Yale hospital, aftercare, physio and recovery, I couldn't have asked for a better standard of care. The staff were marvellous, medical, housekeeping and administrative, and my scar is tiny compared to what I was expecting."
Mr Ganapathi is also highly accomplished in state of the art knee surgery, including the use of replacement knees uniquely designed for individual patients and custom-built using the use of 3D printer technology. He is trained in computer guided joint replacements, allowing his procedures to be extremely precise.
Medical professionals, patients and more than 260,000 subscribers of the GHP Magazine were invited to submit nominations for the 2017 Private Healthcare awards, covering a range of specialisms.
Mr Ganapathi said he was honoured to have been nominated, adding that the award was a tribute to the work put in by his entire medical team.