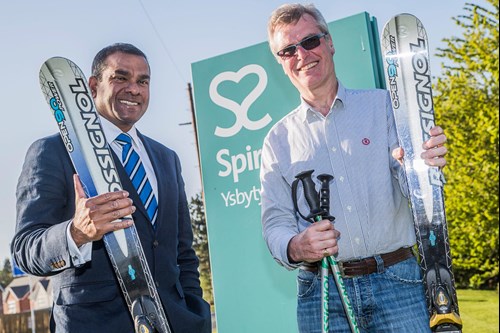 A ship's captain from Anglesey who loves skiing is back on the slopes and feeling 20 years younger after a hip replacement operation.
Tudor Roberts was amazed at being able to return to the ski slopes in such a short time after the operation by Orthopaedic Consultant, Mr Sudheer Karlakki, at Spire Yale Hospital in Wrexham
Less than 18 months ago Tudor, 59, encountered difficulty just bending down to fasten his ski boots. He thought he would have to pack them and his skis away for good.
But today the dad of three has even left his youngest son and daughter in his wake when tackling the adrenaline fuelled red slopes of Italy and France.
He said: "I cannot thank Mr Karlakki enough. It is nothing short of remarkable. I don't just feel 20 years younger, I actually feel much fitter than I did 20 years ago. And I've grown by an inch too! I'm standing upright again, so standing taller. I just haven't looked back since the operation."
A captain with Irish Ferries, Tudor has worked for the last 30 years on the daily ferries transporting passengers between Wales and Ireland. He lives with his wife, Claire, in Llaingoch, near Holyhead, where they also run a small B&B. They have three grown up children, Matthew, 29, Luke, 21 and Laura, 18.
He said: "The family have noticed the difference in me too. They are really pleased to see me back to my old self again, although Luke and Laura are a little bit miffed that they can no longer simply whizz past me on the skis!"
He has been skiing twice in recent months at the famed French resort Les Deux Alpes and at Ski Ronda in the Italian Dolomites.
He has always led an active life, playing squash to a high level in the North Wales Eryri League, racing his squib boat as a hobby and indulging in his passion for skiing whenever possible.
But he remembers suffering back pain even during his 20s.
He said: "I always called it back pain because that is what it felt like, but thinking about it now I have come to realise the pain must have stemmed from my hip. That is where the real problems were. Over the years it gradually got worse until in the end it was waking me up at night. It would take me 20-30 minutes to determine which position to lie in so that it caused me the least amount of pain."
He first went to Spire Healthcare a few years ago when he noticed the pain was becoming increasingly persistent.
He said: "The doctor I saw did suggest to me then that I could have both hips replaced but at the time I was still playing squash regularly and we were quite high in the league competing for the championship. I wanted to be able to carry on with the team and I also didn't feel I was at a stage where I wanted to go through surgery, so I decided not to do it at that time.
"I carried on playing squash competitively, which I suppose didn't help ease my hip any.
"As time went by I started to feel less mobile and unable to do a lot of the activities I had previously enjoyed. The pain also started to bother me at work. Standing on the ship for long periods, the slight vibration of the vessel started to tell on my hip, triggering the joint inflammation which would cause me pain at the end of my period of duty."
It became so bad that Tudor who has private health insurance, eventually returned to Spire and this time he saw Mr Karlakki, an expert in hip replacements, knee replacements, and keyhole surgery procedures of the hip and knee.
Mr Karlakki graduated from St John's Medical College, Bangalore, India, before doing his surgical training in Cardiff and Newport.
Eventually he moved to Oswestry after being selected for the All Wales Orthopaedic Programme and in 2003, he became a consultant at the globally renowned Robert Jones and Agnes Hunt Orthopaedic Hospital, in Oswestry, where he has led important research projects into the further development of hip and knee surgery. He also spent time working in Canada, developing his skills in the highly specialised field.
Mr Karlakki said most people who suffer hip impingement or arthritis of the hip will reach a point where they know the time has come to consider a hip replacement.
He said: "I am pleased to know that Mr Roberts has had a positive experience following his surgery. Being a keen skier I fully understand his delight to be able to get back to his sport.
"This sort of disorder builds up gradually over a period of years until, as happened with Mr Roberts, the patient reaches a point where it is seriously hindering their day to day life. With the advances of modern medicine there is a lot that can be done to ease the pain associated with both hip and knee complaints.
"Hip replacements are one of the most successful operations carried out in the UK today, with good recovery times and potentially life changing results for the patient. I advise anyone suffering prolonged periods of pain to consult with a doctor who can advise on the various options available."
Tudor was amazed at how quickly and effectively his wound healed after he had the operation in November 2015. He went on to speedily recover his strength and agility, so much so that he was able to return to the mountain slopes just 14 months after the operation, feeling fitter than ever.
He said: "There was no bruising and it was such a clean cut with no discharge or anything.  I was definitely surprised at how quickly the wound itself healed and I certainly never expected to be skiing again just over a year after my operation. I am over the moon with the results. All the pain is gone, and there is now nothing that I want to do that I feel unable to do, which is a wonderful feeling."