"Miracle" recovery puts Conwy grandmother back in the fast lane
A Conwy grandmother who lives life to the full is celebrating the success of 'miracle surgery' to replace both knees.
Keen walker Valerie Evans, from Deganwy, was devastated when her knees could no longer cope with her energetic walks in the Conwy countryside.
X-rays showed the 71-year-old former English teacher had lost all cartilage in both knees which meant the bones in the joints were rubbing against each other. The only possible solution was a double knee replacement or face years of pain and restricted movement.
The grandmother-of-five, who taught English at Ysgol John Bright in Llandudno for more than 20 years, went ahead with the operation under the expertise of consultant orthopaedic surgeon Mr Tony Smith at the private Spire Yale Hospital in Wrexham and was amazed at the speed of her recovery which saw her up on her feet the very next day.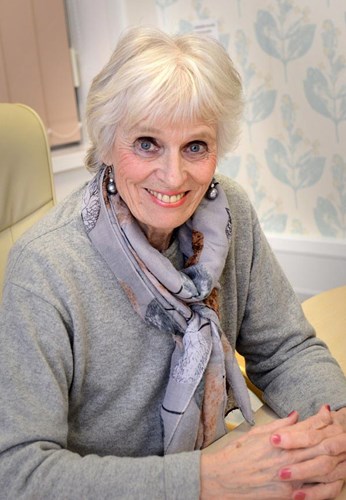 "It was nothing short of a little miracle, I count myself extremely lucky to have been recommended by a friend to make an appointment with Mr Smith. I was fully prepared to have a long period of recovery, particularly as I was having both knees replaced.
"However, I can honestly say that I was spared having to endure serious pain and for this reason I will forever be indebted to Mr Smith and his team for performing that very special little miracle."
Valerie, who has five grandchildren aged between three and 22, said she first noticed stiffness in her knees in the middle of last year.
"I realised that I couldn't walk as far as I normally did. I love to walk, it's my hobby, and I'd often do the two miles to Conwy and back," she said.
An X-ray showed all of the cartilage had worn away in both knees which meant there was nothing to cushion the bone as it moved.
"I have always been active and played hockey and tennis regularly when I was younger. When Mr Smith told me during a consultation at the Spire Abergele Consulting Rooms the only treatment he could offer me was a double knee replacement I was rather shocked. He said I was the perfect candidate for this operation as I had no cartilage left in either knee joint. I knew I'd have to be positive and go ahead with the surgery, as the other option was to do nothing and this would mean enduring a lot of pain in the near future."
Mr Smith has accrued almost three decades of surgical experience across the world and specialises in knee surgery with a particular interest in knee replacement surgery and increasingly the complex 'redo' knee replacement operations. He also provides a service for people with sports injuries to the knee and early arthritic problems.
The surgeon, who completed a fellowship in Adelaide, Australia, in knee surgery and has travelled across the USA, Europe and the UK with the British Knee Society, said it was fairly rare to undertake a double knee replacement operation but that Valerie was the perfect candidate for the surgery.
"Valerie was a fit, healthy and active patient. She's quite a determined character and ticked all the boxes for this surgery," said the 52-year-old, who lives in North Wales
"There are only a few surgeons prepared to offer bi-lateral surgery and it's not routinely offered but if you have the right patient it can be an excellent option. It's only one hospital admission for the surgery and only one period of recovery. You can obviously double all of that if you have one knee replaced at a time.
"Valerie really should give herself credit. She's an incredibly enthusiastic and active lady. The key to getting such good results is identifying the right patient for the surgery which she was.
"We like to get patients up and walking on the day of the surgery and they're normally out of hospital within five days for bilateral knees and two to three days for a single side. Normally they're driving again by about six weeks or earlier and looking forward to playing golf again or whatever other activity they enjoy by about 12 weeks."
Mr Smith, who completed his basic surgical training while in the Army and his orthopaedic training at the Robert Jones and Agnes Hunt Hospital in Oswestry and various district hospitals in North Wales, added: "It really is life-enhancing surgery. A lot of younger people are coming forward for the surgery today and are still working so it really is vital for them to be able to recover quickly and remain active."
Valerie, who has two sons aged 46 and 36 and a daughter aged 43, said opting for a double knee replacement was the best decision she had ever made.
"I was prepared for a bit of an uphill journey but what I wasn't certainly prepared for was the miraculous speed at which my recovery began," she said.
"On the first day I was up and put into the care of a delightful physiotherapist. Even he was amazed at my ability to walk so well and he was even more surprised when I climbed up and down a set of steps. I did this without feeling any discomfort.
"After five days of continuing exercise I was able to get into the car ready for the journey home.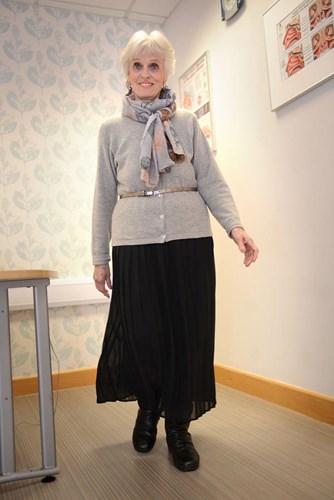 "Three weeks later, I had parked the crutches by the worktop in the kitchen while I was preparing breakfast and, without thinking, walked off without them! I felt very safe and steady without them but was wise enough to keep using them for a bit longer. The family certainly hadn't expected to see how well I had progressed after such a short time.
"I haven't walked over to Conwy yet but I'm sure it won't be long before I do, which will be an amazing achievement. I would have been in a very poor state if I had not had my new knees.
"A big thank you to Mr Smith and all the staff who helped me to such a swift recovery."
To book a consultation with Mr Smith, call 01978 268035