A pioneering alternative procedure for prominent ears
Around one to two per cent of the UK population have protruding ears. Many of these people are unhappy with the appearance of their ears, which can lead to reduced self-confidence.
Typically, patients looking to correct prominent ears have had to undergo invasive ear surgery – known as otoplasty. This 90-minute procedure involves cutting the cartilage and is undertaken under general anaesthetic. Patients often require six weeks to fully recover.
But not anymore.
Earfold® is a pioneering alternative new procedure for prominent ears. It uses an implant inserted under local anaesthetic which corrects the ears' prominence in just 20 minutes.
Mr Jonathan Hughes, Consultant ENT Surgeon, here at Spire Thames Valley explains: "Earfold® is a new treatment option which quickly and effectively corrects prominent ears. It is a minimally invasive treatment and can be carried out under local anaesthetic; with immediate correction and rapid recovery."
Compared to otoplasty, Earfold® has a very short recovery time. Earfold® is suitable for adults and children aged seven and older.
How does it work?

The Earfold® implant is a curved strip of flexible metal that is placed under the skin on the front of the ear. It works by gripping the cartilage and folding it back into a predetermined shape, pulling the ear closer to the head.
Mr Hughes continues "With Earfold, patients can actually specify how they want their ears to look, so they know what results to expect. You will be able to go home immediately after the procedure and no head bandages are required. The recovery time is usually seven days."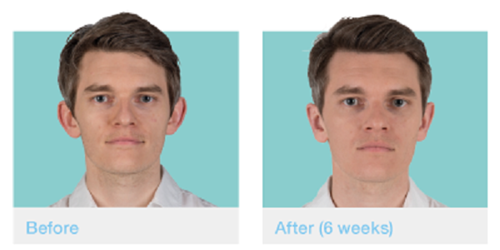 The benefits
Short recovery – no bandages so you can return to work as soon as you feel comfortable
You can choose the position of your ears before treatment
Fast treatment – the procedure typically takes about 20 minutes
The procedure is carried out under local anaesthetic
Mr Jonathan Hughes is a Consultant ENT Surgeon here at Spire Thames Valley Hospital. If you would like to learn more about this procedure or have any questions, please call us on 01753 665 404 or email us here.