Spire Portsmouth achieves Gold Award for Excellence in Housekeeping
Following on from their success back in September 2018, when the housekeeping team was awarded the CAP Silver Award, there was another successful inspection during May, which saw the Gold Award for Excellence in Housekeeping also achieved.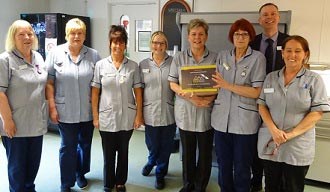 Members of the CAP Awards programme share a passion for raising the standards of housekeeping in healthcare organisations and schools and throughout the UK and Ireland. The Spire Portsmouth Hospital chose to submit its housekeeping practices to intense scrutiny via an unannounced visit from the CAP Assessment Team – a bold and confident decision that removes the ability to prepare.
In his report the chief assessor, Ian Jackson, commented: "This was an impressive performance by the team. Their understanding of the finer points of delivering a housekeeping service is to be commended."
Andrew Gilogley, Operations Manager at Spire Portsmouth, is especially pleased with the CAP Awards outcome. "I was delighted with this Gold award as it demonstrates the commitment, hard work and awareness by the team in six months to achieve this standard, which has involved retraining, amending processes and work plans to ensure they met the challenge posed by the CAP program. On that basis alone, they deserve this accolade. The team will display the gold plaque award with pride.
Pictured with the CAP award are team members, Ruth Pope, Sandra Edwards, Wendy Hayden, Karen Regan, Angie  Sullivan, Julie MacDiarmid, Dan Stonell (Hospital Director) and Tracy Cunningham
Other team members not pictured include Nathalie Adams, Wendy Ware, Fran Roberts, Dee Sims, Anita Eyre, Tracy Ryan, Caroline Mengham-Smith, Teresa  James, Julie James, Debra Bowden, Tracy Farndell, Wendy Hobson, Hayley MacSkimming, and Courtney Roberts.