Spire Portsmouth lands Silver Award for Excellence in Housekeeping
At its very first attempt, the Spire Portsmouth Hospital has secured a prestigious Silver Award from the nationally-recognised Continuous Advancement Programme (CAP) for its exemplary performance and service quality in housekeeping. The award was presented by the CAP Awards Chief Assessor on 13 September.
Members of the CAP Awards programme share a passion for raising the standards of housekeeping in healthcare organisations and schools and throughout the UK and Ireland. The Spire Portsmouth Hospital chose to submit its housekeeping practices to intense scrutiny via an unannounced visit from the CAP Assessment Team – a bold and confident decision that removes the ability to prepare. That unannounced inspection took place in September.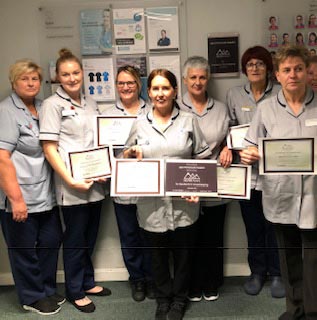 In his report, the chief assessor, Ian Jackson, termed the hard-working housekeeping department 'industrious' and noted that the team includes several long-serving members. This had, in his experienced view, led to a well-established and efficient system of works, with the housekeeping team's periodic cleans 'providing exemplary evidence of effectiveness.'
Jackson also admired the spirit of the team, commenting: "the desire to be the best was evident. Yet despite the conscientious and professional approach to the housekeeping tasks, there was still room for good humour among team members – and even with me. They are a credit to the hospital."
Andrew Gilogley, Operations Manager at the hospital, is especially pleased with the CAP Awards outcome. "I was delighted to see that the members of the department took on the not-inconsiderable challenge posed by the CAP programme with the same endeavour that they show in their day-to-day work. On that basis alone, they deserve this accolade. Now the ambition is to secure a CAP Gold Award as the ultimate testament to the team's spirit."
Pictured with the CAP award are team members Sandra Edwards, Hayley MacSkimming, Karen Regan Tracy Cunningham, Wendy Hobson, Julie McDiarmid, Angie Sullivan, Ruth Pope. Other team members not pictured include Nathalie Adams, Wendy Ware, Fran Roberts, Dee Sims, Wendy Hayden, Anita Eyre, Tracy Ryan, Caroline Mengham-Smith, Teresa James, Julie James.