Hello, my name is Philip Oehley and I am the Hospital Director at Spire Murrayfield Hospital, Wirral.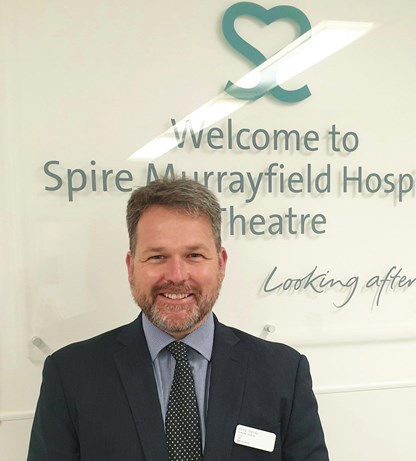 Hello Philip! How long have you worked at Spire Murrayfield, Wirral and what is your previous background?
I joined the Spire team in the Wirral on 3 January 2018.
Prior to that I have been leading private hospitals in the UK with opposition hospital groups over a 10 year period and prior to that in South Africa for a further 15 years.
What made you want to be a Hospital Director?
Not sure I can answer so easily. I fell into the role having worked in 5 star hotels previously. At the time the South African healthcare company I subsequently joined were recruiting hoteliers into their system and I was lucky enough to be accepted. I just loved the role from there, no day is the same. It is people facing and enormously diverse, everyday.
What makes you proud to work at Spire Murrayfield, Wirral?
We have a great staff team, across the consultant and staff body, all are passionate about healthcare and caring for their patients and the unit very much has a family culture about it. And Spire is a great company to work for.
What does "Hello my name is…" mean to you?
To me, this personalises our role in working with the many patients we see daily. It keeps us close to the care and compassion we offer to patients and reminds us that we run a business where our product is care, we can only deliver this care on a one to one basis with each individual patient being central to what we offer. We start our day simply by an introduction "Hello, my name is... Philip."
And finally, what's your hidden talent?
Ha ha, not sure I can answer that either. Calm in times of crisis? Lets just say that!