Hello my name is Alan Armstrong and I am a Health Care Assistant at Spire Murrayfield Hospital, Wirral.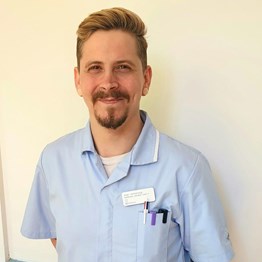 Hello Alan! How long have you worked at Spire Murrayfield Wirral Hospital and what was your background previously?
I've worked at Spire Murrayfield since January of 2018 after spending four years working in Nursing and Dementia Care. My role there was to work as a HCA but I also branched out into training and inductions of new and existing staff members.
What made you want to be a Health Care Assistant?
I had spent many years working in a job that revolved around sales as I found myself to be quite good with people, but after a while I realised that I wanted to take my career to the next level and begin working with people by looking after people!
What makes you proud to work at Spire Murrayfield, Wirral Hospital?
I am proud to work here at Spire Murrayfield as I get to be a small cog in a very complex machine and contribute towards the outcomes of my patients and towards the team we have here on the Ward. Speaking of our team, I'm also extremely proud to say that we are just like one big happy family, all of the staff get along really well and I think this translates very well to our patients. I am also in awe of how much support goes out to the staff who work here as well, not only have my hospital given me a wonderful platform to learn and develop but I am also proud to say I'll be a Student Nurse soon all thanks to Murrayfield!
What does "Hello my name is…" mean to you?
"Hello, my name is…." To me, it is an excellent way to let people outside of our hospital environment know exactly what I'm about! It's a way of communicating to existing and future patients so that they know what we are about and how we like to come across!
And finally, what's your hidden talent?
My secret talent... well, I'm not so sure that it's a talent but I can generally turn my hand to almost anything. I might never take each thing to the maximum but, I can build a wall, put up a fence, service a motorcycle, work as a clinical member of staff, provide tech support from my few years as a computer programmer… the list goes on! So I suppose that talent would be… versatility!
Spire Murrayfield Hospital, Wirral are joining the important social media campaign launched by Dr Kate Granger MBE and her husband Chris Pointon, to encourage and remind all staff to go back to basics and introduce themselves to patients properly. You can read all about Dr Kate Granger's journey and the campaign on their website https://www.hellomynameis.org.uk