Hello my name is Jayne Nieto and I am the Breast Care Specialist Nurse at Spire Murrayfield Hospital, Wirral.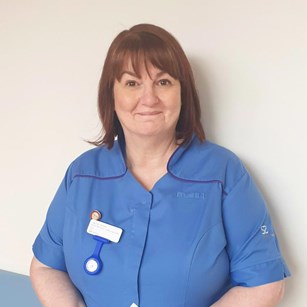 Hello Jayne! How long have you worked at Spire Murrayfield Wirral Hospital and what was your background previously?
I have worked at Spire Murrayfield since August of last year. My background was as a breast care and chemotherapy nurse at a private hospital in Chester.  Previous to this, I have worked in the elective and acute setting for the NHS where I developed my interest in breast care.
What made you want to be a Breast Care Specialist Nurse?
My mum was a paediatric nurse and my role model, so I guess you could say I grew up wanting be a nurse like my mum .
What makes you proud to work at Spire Murrayfield, Wirral Hospital?
I am proud to work with a team of professionals that put the patient at the heart of everything we do.
What does "Hello my name is…" mean to you?
When patients are being investigated for a symptomatic breast problem it's an anxious time for them and their family. It is important that the initial meeting establishes a rapport. Although most patients are assessed and discharged from our service for some patients I will become their keyworker, supporting them and their families through their journeys.
And finally, what's your hidden talent?
I am qualified in aromatherapy and massage.
Spire Murrayfield Hospital, Wirral are joining the important social media campaign launched by Dr Kate Granger MBE and her husband Chris Pointon, to encourage and remind all staff to go back to basics and introduce themselves to patients properly. You can read all about Dr Kate Granger's journey and the campaign on their website https://www.hellomynameis.org.uk