Patient Jack celebrate his 100th birthday!
Jack was popping into the hospital in Sutton Coldfield for an eye injection just days after receiving a card from the Queen congratulating him on reaching 100 years.
And to mark the occasion, Consultant Ophthalmologist Mr Kam Balaggan, who has been treating Jack for over five years, presented him with a specially-made cake. Surprised – but certainly not lost for words – Jack said he was delighted to be out and about during coronavirus lockdown, even if it was to visit a hospital!
"My main worry at the moment is my tomatoes," he joked. "I started growing them from seed in my room at the care home but now I can't get them out to my grand-daughter so she can get them into the greenhouse so it's getting a bit like living in a jungle!"
Jack is being treated for Macular degeneration – a condition which, if untreated, can result in rapid and severe loss of central vision. At the moment he visits the hospital every three months for an injection that keeps the problem under control.
His treatment is part of vital on-going care so is still been carried out at Little Aston even though the hospital is now working as part of the NHS coronavirus programme.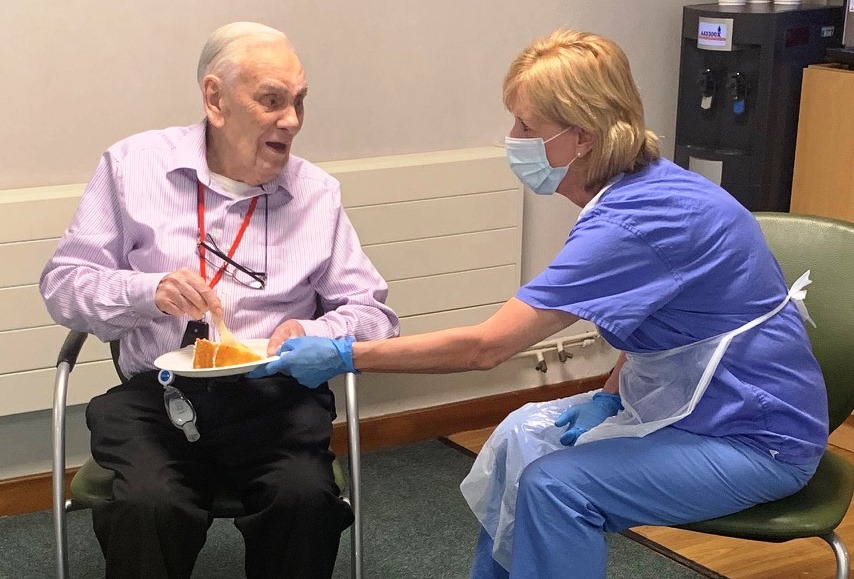 Jack enjoys some birthday cake with Little Aston Staff Nurse Julie Evans
Mr Balaggan explained: "He only has peripheral vision in his left eye but, thanks to these injections, has excellent vision in his right eye. Amazingly his sight is so good that he would actually be legally allowed to drive – although I can assure you he doesn't have plans to get back behind a wheel!
"He has been coming to Little Aston for over 10 years and I have been his consultant for the last five, and he is very well known and well-liked around the hospital. He always has something to say – and he doesn't mince his words – he really is quite a character."
Jack, who spent most of his life in Streetly, before recently moving into a care home in Aldridge, spent his working life running his own company producing car parts for Ford.
He said: "Everyone at Little Aston is always very friendly and very helpful and, despite the fact that I know they are going to stick a needle in my eye, I always enjoy my visits here."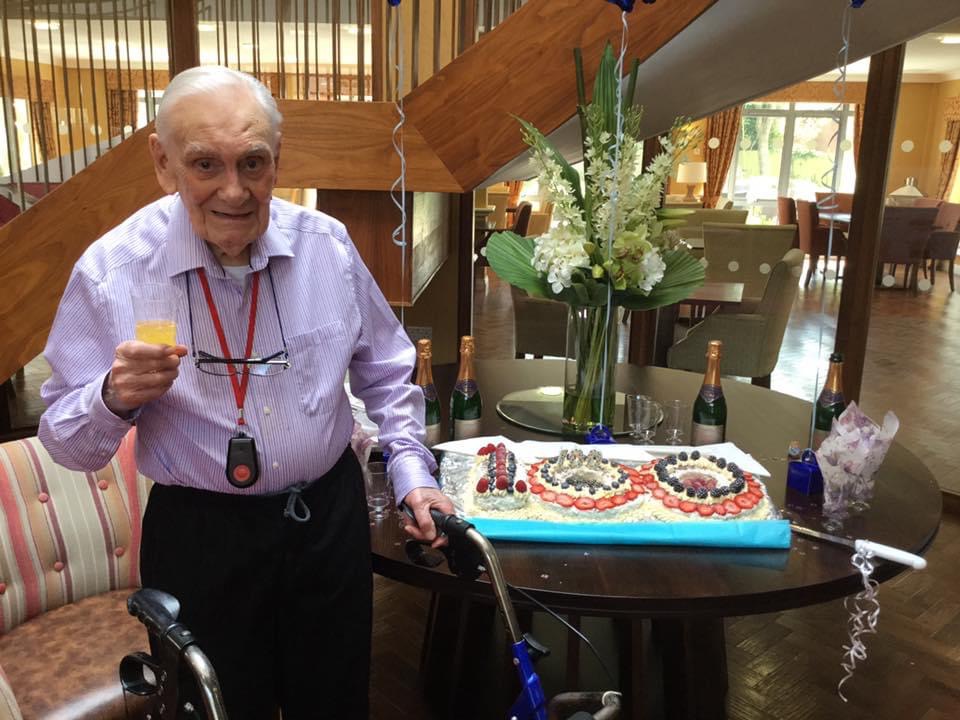 Patient Jack celebrate his 100th birthday