Hospital celebrates century of Mako 'robot' surgery
She was one of the first people to have a knee replacement operation using the latest Mako robotic technology at Spire Little Aston Hospital.
So, when it was decided she needed a replacement of her second knee, mum-of-two Julie Williams had no hesitation in selecting another Mako surgery.
What she didn't realise was she was going to be a 'celebrity for a day' when it was recognised she was to be the 100th Mako operation to be carried out since the revolutionary technology was introduced to the Sutton Coldfield Hospital.
Sixty-year-old Julie said: "My first operation went so well that I was determined to have Mako for my second knee replacement. However, it was a bit of a surprise to find myself at the centre of the celebrations as the 100th procedure using the Mako 'robot'.
"I had a fantastic result and quick recovery after my first op and I'm confident that it will be just the same second time around."
The Mako system uses CT scans to generate an exact model of the patient's knee or hip. That information is then fed back through the robotic arm allowing the surgeon to determine how much bone to remove and also to ensure accurate alignment and achieve optimum soft tissue balancing.
If the robotic cutting tool is passed over a part of the joint that doesn't need removing then the cutters automatically stop… not starting again until it reaches parts mapped out for removal. Once the bone is removed the Mako then assists the surgeon as to where to place the implant to achieve the most accurate fit possible.
Consultant Orthopaedic Surgeon, Mr Shiv Jain, who carried out Julie's first operation, will also take charge of the second procedure. He said: "I think the introduction [of] Mako has put Spire Little Aston at the cutting-edge of knee replacement surgery. I am proud to have been involved with it since day one and I am sure it will continue to be popular with patients.
"It allows me to consistently optimise implant placement which, in turn, gives the patient a more natural-feeling knee. It should also mean a quicker recovery time and much reduced post-operative pain.
"The best type of joint replacement is one that lets you forget you actually have one and I really think Mako enables surgeons to meet that goal."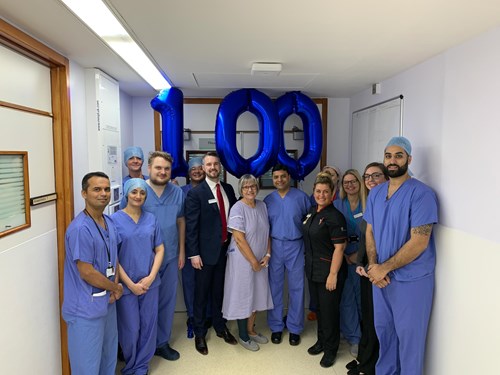 Pictured: Patient Julie Williams alongside members of the Spire Little Aston team, prior to her knee replacement surgery with the Mako robot.