From unfit and 21 stone to Marathon runner!

Read Tim's inspirational story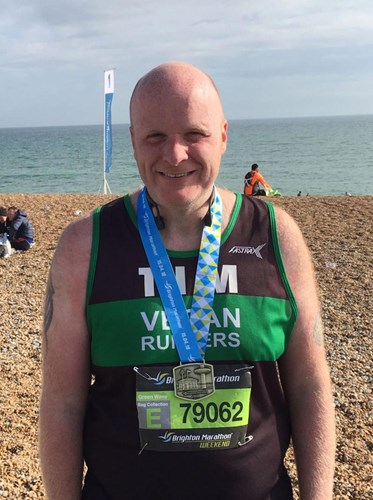 "Summer 2016 was a bit of a wake-up call for me. I was unhappy with my lifestyle and weight - I was 21 stone and a scan showed I was starting to develop fatty liver. I joined Slimming World and although I didn't tell anyone at the time, set myself a goal of running a marathon by the time I reach 40 (I was 34 then). I lost 4.5 stone and started running parkruns. My first in December 2016, I could barely finish. In 2017 I ran my first 10K, then my first half marathon. I changed to a vegan diet. I signed up for the 2018 Brighton Marathon.
Unfortunately I pushed too hard and damaged my knee; the specialist I met at the hospital suggested I should give up running last summer, all my family and friends told me to quit running too. But I was determined. Or stubborn?!!
I booked a physio appointment at Spire Leicester Hospital. Physiotherapist Charlotte listened to my goals and gave me the self-belief that I could achieve them with hard work. We came up with a plan which involved building up the strength in my legs and core muscles, to help protect the knee when I am running. It was hard work; I had homework (exercises) which I religiously followed every other night. She pushed me harder and harder during the physio sessions as time went on, it was hard, at times it was painful, but it helped me to achieve my dreams.
Charlotte also educated me on the benefits of warming up and cooling down, the different dynamic stretches. She also video recorded me slowed down on a treadmill - giving me tips on running and on how to avoid injury. We also talked through my training plan, which I adapted to fit me.
The furthest I had run in a training run prior to the marathon was 18 miles, and I had cut the number of runs in my training plan from 4 down to 2-3, to give the knee as much chance as possible to be 100% on the day of the marathon.
I was so scared before the race, waiting at the start line for my wave to get the green light to go.  Then off we went... and the miles quickly started to pass by, 1 then 3 then 5 and suddenly I was at 10.
When I reached mile 13 I had a sudden wave of self-doubt as my feet and knees were starting to hurt and I couldn't imagine running that all again.  But the sun came out and the crowd were fantastic and pulled me along.
Miles 20 - 23 were through an industrial estate and there was very little crowd support - the wind and cold rain were also blowing in my face at this point which made things even more difficult. It was one of those moments were you either dig deep and keep going, or you quit. I just kept thinking of my family waiting for me at the finish. It was one of those defining moments where you either give in and live with the regret forever or get your act together, stop moaning and push on, one foot in front of another.
And then suddenly I was at mile 24, then mile 25 and then only a mile to go. The crowds started to thicken again and I got so much support and so many cheers it spurred me on to the end.
I saw Mandy, my wife and the girls at the last few hundred metres and just went for it. It felt like a sprint finish, and although I have seen official race pictures with me with both feet off the floor and I am flying, watching the video back it is more like I am waddling !!
Then suddenly I was having a medal put round my neck and my amazingly supportive family were there all hugging me saying well done!
I finished in 6 hours 9 minutes. I wasn't the fastest; in fact I finished near the back. But there wasn't anyone else who ran who tried as hard as me to get to this point :)
It was, without a doubt, the biggest personal achievement in my whole life. Without sounding too cheesy, crossing that finishing line was almost a life changing moment for me. When you believe that you have the inner strength to do anything that you set your mind to, to beat self-doubt and all the people who doubted you. It was amazing and I am still living off the high from it!
So what next? Well I'm not planning on giving up running any time soon, so when I can walk properly again, when my knees are less sore and swollen I will go again.....  I have a 10k in two weeks if I am well enough, and a few half marathons booked for later this year. I have signed up for Manchester marathon again next year. I definitely want to run faster. But first I want to get to my goal weight and to do that I need to lose another 3 stone.
Anyway, I just wanted to say thank you so much Charlotte, my Physio at Spire Leicester for everything she did for me, for all the support and guidance and pushing me to do the exercises. I have no doubt that without her I wouldn't have been at that start line and I just wanted to say thank you so much."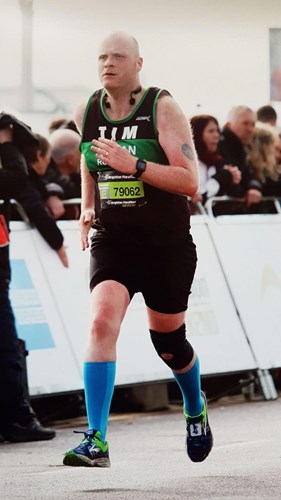 To book a physiotherapy appointment at Spire Leicester Hospital call us on 0116 265 3653.


Our physiotherapists are also able to refer patients for X-ray, ultrasound and other scans to aid diagnosis.