Jackie had bunions on both feet, which over a three year period were becoming more and more painful.
Walking any distance was proving challenging for the 59-year-old and buying shoes was a real problem. Jackie had difficulty finding any comfortable footwear and it really limited her choices.
Looking forward to her imminent retirement years, Jackie wanted to enjoy life to the full, and it was this that prompted her to investigate her options in terms of treatment or surgery that would help.
Having always been active, Jackie was keen to be able to continue with the things she loved, gardening, visiting open gardens and touring stately homes - all of which involved her being on her feet. In addition, as Jackie looks after her elderly parents, being fully mobile was essential to being able to care for them.
X-rays of Jackie's feet before surgery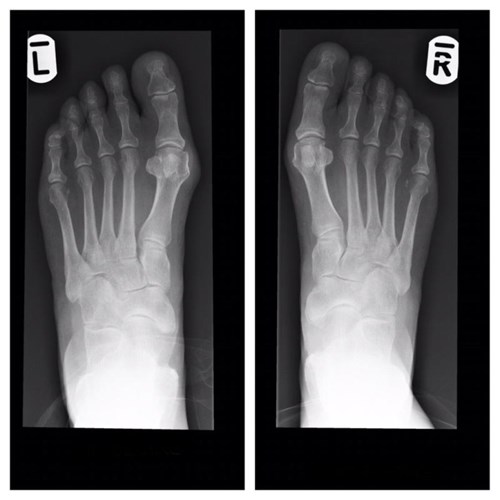 Taking the decision to have surgery
Jackie made an appointment at Spire Leicester Hospital to see Mr Jitendra Mangwani, an Orthopaedic Surgeon and foot and ankle specialist.
Mr Mangwani took an X-ray and examined Jackie's feet and advised her that surgery would improve the situation dramatically, both in terms of the pain she was currently experiencing and the aesthetic appearance of her feet.
He explained that there were two possible approaches: To have one foot operated on, allow it to heal over 6 to 10 weeks and then operate on the other foot. Or to have both feet operated on together, which would significantly reduce the amount of time Jackie was incapacitated while recovering.
Jackie's decision was to have both feet operated on at the same time, as she was keen to minimise the time she was 'out of action' - being mindful of her role as the main carer for her parents. 
Anaesthetic options
Having chosen this route, Mr Mangwani outlined her choices in terms of the way the operation could be undertaken. Jackie could have the procedure done under a general anaesthetic or alternatively under a regional block anaesthetic in her ankles, where Jackie would be mildly sedated, but awake throughout the operation.
Mr Mangwani explained the advantages of having a regional block - Jackie would spend a shorter time in the recovery area of theatre and be up and out of bed faster post surgery, as she would not be drowsy from having a general anaesthetic. She would have more prolonged pain relief from the block and therefore greater confidence in moving about sooner, plus she would avoid any associated risks of having a general anaesthetic.
After reflecting on her anaesthetic options, Jackie was admitted to Spire Leicester to have both feet operated on under a block anaesthetic and says; "Mr Mangwani instilled confidence, was very reassuring and both he and his anaesthetist explained every step of the forthcoming operation really clearly."
Surprisingly little pain 
After the operation Jackie was amazed to find herself pain-free! Mr Magwani had told Jackie that her pain would be controlled, however Jackie was still surprised. "I experienced no post-op pain and even at home during the early days of my recovery I only needed paracetamol. And my actual bunion pain had disappeared!"
These boots were made for walking...
While in theatre, Jackie had been fitted with, in her words, "designer boots" - special surgical boots that allowed her to walk around without directly weight-bearing on the operated areas of her feet. "I was surprisingly mobile from the first day. I had to keep the boots on, and sleep in them too, which was the worst part of the whole procedure really, but it was absolutely worth it!"
Of her overall stay at Spire Leicester, Jackie says, "it was fantastic! Everyone involved in my stay at the hospital was friendly, caring and professional."
The end result
She concludes: "It's taken nine weeks and I'm back driving, back in normal shoes and getting back to normal life - and with pain-free feet. It's wonderful!"
X-rays of Jackie's feet after surgery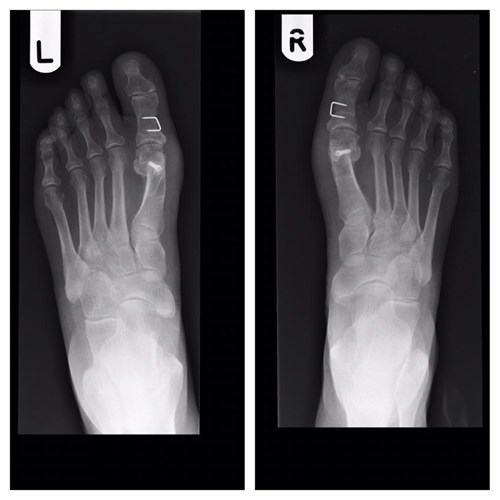 ---
The consultant's view


Mr Jitendra Mangwani - Foot and ankle specialist
"In my experience, the biggest fear for patients who are considering bunion surgery is around adequate management of their post-operative pain. The information available on the internet can sometimes be quite misleading. Just like Jackie, there are lots of people who come across horrendous stories of poorly managed pain after bunion surgery, which can put them off.
"As a treating surgeon, it's important to understand the anxiety and fears your patients have around their condition and any treatment options offered. My approach and that of my team of specialist anaesthetists and nurses, is to pay special attention to my patients' post-operative pain management, which gives them confidence to be up and about soon after their operation and helps in their overall recovery and experience after this surgery."
Check Mr Mangwani's consultant profile to find out more about the procedures he offers.