Wendy Taylor – rotator cuff repair
Wendy Taylor had shoulder surgery at Spire Leeds under the care of consultant orthopaedic surgeon, Mr Roger Hackney.

Wendy, a deputy theatre manager at Spire Leeds Hospital, has a rather unusual hobby – clay pigeon/skeet shooting.

She became hooked on the sport after her husband bought her a shooting lesson and Wendy found she had a natural talent for it. She honed her skills with hours of practice and started competing nine years ago.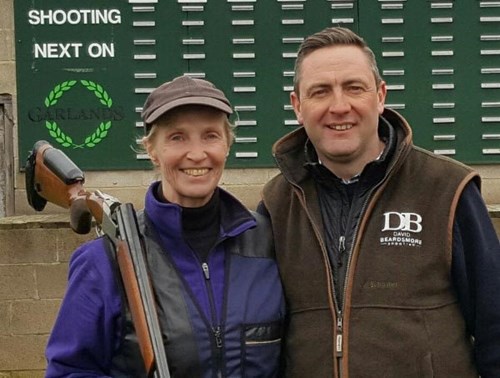 "I really enjoy it. It's a very difficult discipline and very precise so it focuses the mind. Seeing the clays break is very satisfying. You need a bit of strength to shoot 100 targets so I try to keep fit with regular visits to the gym," said Wendy who practices twice a week in Coniston, York and Nottingham.

When Wendy was forced to stop clay pigeon shooting after she injured her shoulder in a fall during 2012. She was devastated. The pain became so bad she struggled to sleep at night and normal day-to-day activities were challenging. During clay pigeon shooting it became difficult for her to lift her gun and on one occasion she had to stop halfway through a competition.

She said an ultrasound scan showed wear and tear but it did not look bad enough to need surgery. She tried rehabilitation with physiotherapists along with steroid injections for just under a year before it started to become more painful and further tests showed it was damaged further and she had a torn rotator cuff

It was at that point she knew she had to take time out and do something about it.

"I couldn't shoot for six months. It was dreadful. I'm used to going to the gym and I couldn't do anything active."

Wendy underwent surgery in 2013 under the care of Roger Hackney, consultant orthopaedic surgeon at Spire Leeds Hospital, with a special interest in rotator cuff tears, shoulder surgery and sports trauma surgery.*

Mr Hackney said, "Wendy was struggling at work and with her sport. By the time she progressed to having the operation the damage to the tendon had developed into a full thickness tear of significant size. She was offered arthroscopic (keyhole) surgery called sub acromial decompression (SAD) plus repair of the rotator cuff. The procedure involved removing the bursa (a small fluid-filled sack that helps reduce friction between bones) and shaving some bone from the roof of the shoulder. The tendon was pulled back onto the bone, from which it had become detached, using little metal anchors buried in the bone.

"It's particularly important for her to regain full use of motion in her shoulder for her clay pigeon shooting interest. Wendy has made a full recovery and regained power and range of motion. She is able to work at full capacity, including occasionally assisting me in performing shoulder surgery, which can be quite demanding. More importantly she has got back to her clay shooting and is once again able to compete at a national level."

"The surgery was successful and I've not had a minute's trouble from my shoulder since," said Wendy.

When she started shooting again, Wendy needed a new gun to be custom fitted with revisions to the recoil to help take pressure off her shoulder.

"I built up slowly and got my strength back over nine months to get my scores back up," she said.
Wendy, who is due to retire later this year, plans to devote more time to her sport and is currently being coached by multiple World Skeet Champion David Beardsmore. "Skeet shooting is becoming more popular among women and it's good to see a lot of younger women coming up the ranks. I really enjoy it and I like the challenge of setting personal goals to aim for.

"I hope I will carry on and still be shooting in my 70's if I keep my fitness levels up and my eyesight remains sharp."