Adrian York – abdominal wall reconstruction
Adrian York had a bilateral abdominal wall reconstruction and parastomal hernia repair under the care of Mr Ian Botterill.
When his wife Isabel was diagnosed with multiple cancers in December 2010, Adrian York, an engineer who worked on oil rigs around the world, took early retirement to take on the new role of full time carer for his wife.
Then in December 2011 he started to experience health problems of his own. At one point their roles were reversed as his wife became the carer when Adrian, 66, was diagnosed with bladder cancer in January 2012 and after immunotherapy treatment had failed, he had surgery to remove his bladder and prostate in January 2014. Ten days later the incision opened up. He developed a deep seated infection in the wound, which went undetected for a year.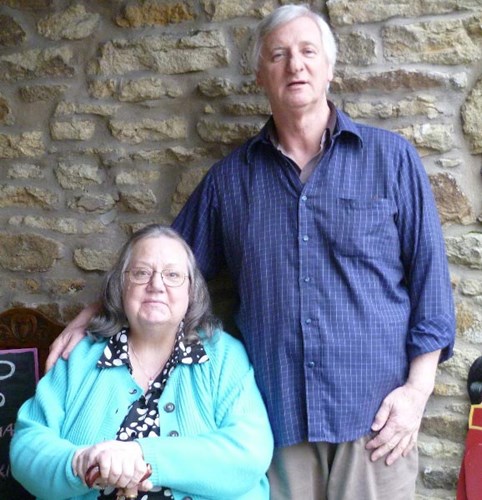 Aware in January 2015 that something was very wrong as his abdomen dropped and became misshapen, Adrian went for a check up which revealed he had an incisional hernia.
"Several doctors I saw said there was nothing they could do for me. It was very frustrating and I did not know where to turn for help," said Adrian.
During most of 2014 Adrian spent up to 16 hours a day in bed due to the unhealed wound and dropped abdomen. His lower six vertebrae locked together due to being immobile. He had difficulty walking and was unable to drive.

One consultant suggested that Adrian might need abdominal reconstruction. Adrian went home and did some research on the condition, which immediately led him to Spire Leeds Hospital and consultant colorectal surgeon Ian Botterill, who specialises in abdominal wall construction and complex hernia surgery. He made an appointment to see Mr Botterill straight away.
"I asked him just three questions," said Adrian. "What is it? Can it be fixed? And if so, can you do it?"
In November 2016 Mr Botterill performed a bilateral abdominal wall reconstruction and parastomal hernia repair*. Surgery took around 4 hours and Adrian was able to return home eight days later.
Mr Botterill has performed around 200 cases of abdominal wall reconstruction over the last 7-8 years, one of the highest number in the UK and he also trains other surgeons and gives lectures on this procedure.
Commenting on Adrian's case, Mr Botterill said, "Adrian had a large incisional hernia (hernia through an old wound site) which caused him back and abdominal pain and prevented him from bending over. Incisional hernias can result from wound infection following a previous surgery and can occasionally be life threatening.
"Without surgery Adrian would have been unable to bend, move or function as much as he needed to as principal carer for his wife. His posture, abdomen shape and function have improved significantly since the operation."
Adrian added, "I needed to have the operation to be able to take care of Isabel. I could have had the surgery done under the NHS but I wanted to get it done as soon as possible. The day I left hospital was the first time I'd been able to walk properly in almost three years. Going to Spire Healthcare was the best thing I ever did. The caring attitude of the nursing staff was wonderful. I was shown compassion and understanding throughout my stay with them."
---
Bilateral abdominal wall reconstruction and parastomal hernia repair
Abdominal wall reconstruction is a complex surgery used to correct abdominal weaknesses caused by recurring hernias or open wounds that are not easily resolved by other specialities. Surgery involved around a four hour operation. This required re-siting the patient's ileal conduit (the replacement for his bladder), which added to the complexity of the operation. The operation entailed opening the abdomen, mobilising the bowel used for the ileal conduit, performing an anterior abdominal wall reconstruction ('rearranging the layers of the muscles that make up the abdominal wall'), insertion of a synthetic i.e. plastic mesh, and injection of Botox to aid muscular mobility in the post-op period. The patient was given an epidural for pain relief and spent 2 days on HDU. Anaesthesia for these cases is challenging due to the amount of tissue mobilisation and consequent need for excellent pain post-op relief. *
* Information provided by Mr Ian Botterill.