Spire Hartswood's housekeeping team achieve Silver Award in CAP (Continuous Advancement Programme)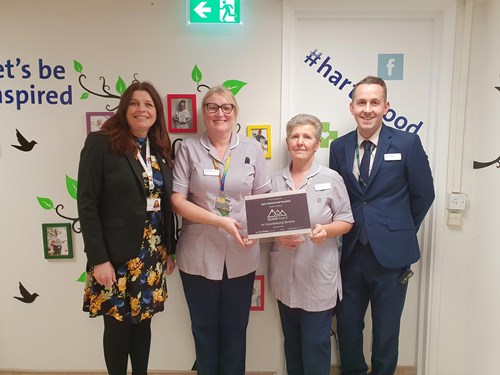 The Continuous Advancement Programme is a 12 month progressive development scheme which aims to promote and reward excellence for the housekeeping and catering services in the healthcare and education sectors. The programme quite simply steers the development of housekeeping services for the betterment of the service users. In terms of the make-up of scoring, there are two essential parts:
The cleanliness inspection score – this involves a walk-through of the hospital with areas being scored on their cleanliness – which 50% of the overall score.
The supportive administration – this looks at the details of schedules, training records, internal audits, patient feedback, risk assessments and COSHH.
Following the review a report is produced with areas for further improvement to be highlighted for the team to work on. Spire Hartswood Hospital chose to submit its housekeeping practices to intense scrutiny via an unannounced visit from the CAP Assessment Team. We are delighted to announce that our housekeeping team were awarded Silver in the Continuous Advancement Programme – this was the highest award that the team could receive as this was an unannounced visit.

Jordan Butler, Operations Manager, is especially pleased with the CAP Awards outcome. He said: "I would like to say a massive congratulations to our housekeeping team for being awarded the Silver CAP Award. For the past couple of months the team have been working really hard to achieve this. During this time they have been motivated and committed, so the award is well deserved. Well done to Rosemarie (housekeeping lead) and the team, this is an amazing achievement. Rosemarie and the team will be going for gold in 2020!"