What you need to know about cataract surgery
We recently spoke with Consultant Ophthalmologist, Mr Venki Sundaram, regarding frequently asked questions surrounding cataracts surgery.
What is a cataract?
A cataract is a clouding of the natural lens in the eye and can caused blurred vision.
What causes cataracts?
Cataracts are usually caused by the natural ageing of the lens. However, sometimes they can be caused by medications, injury to the eye, or conditions such as diabetes.
I've been told I have a cataract – do I definitely need an operation?
Not necessarily, we would only advise an operation if your daily activities or quality of life is being affected by your cataracts, and we feel you would benefit from surgery.
How are cataracts treated?
We perform an operation that involves removing the cloudy lens and replacing it with a clear plastic lens. This usually takes about 15 mins and is normally performed under local anaesthetic.
What happens after surgery?
After the operation you will return to your ward and should be able to go home within an hour and will be wearing an eye shield which is worn overnight. The eye shield must then be worn at night time for one week.
Do I need to wear glasses after cataract surgery?
This is up to you. Different lens options are available to correct distance, intermediate and reading vision. We discuss the various options beforehand with any patient.
When can I return to my normal activities after cataract surgery?
Patients can return to most activities such as work, driving or exercise all within one to two weeks. However, it is best to wait until four weeks for activities such as swimming. If there is anything more specific you are concerned about, we can discuss this with you beforehand.
When can I fly again after cataract surgery?
We would advise patients to wait two weeks until they fly again, after having cataract surgery.
When do I need to see my optician after my cataract operation?
You can visit your optician four weeks after your operation to update your prescription.
What is the aftercare like for cataract surgery?
You will need to use eye drops for four weeks after surgery. There is also a plastic eye shield to wear when sleeping for the first week. You can then return to most day-to-day activities within one to two weeks.
How successful is cataract surgery?
Cataract surgery is one of the most successful and effective operations in the world and the vast majority of patients are very pleased with the outcome. However, all operations carry a risk that we would make you aware of beforehand.
Can I have both eyes operated on at the same time?
Yes, this is an option. We would be sure to discuss the pros and cons of doing so before you make a decision.
If you're struggling with your eyesight, book in to see specialist Mr Venki Sundaram today. Call our friendly self-pay team to start your journey to seeing clearer today 01582 788 412.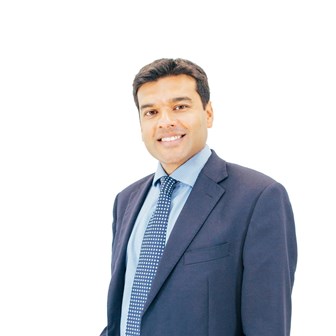 Mr Venki Sundaram
Consultant Ophthalmologist