Are you bowel cancer aware?
Every 15 minutes in the UK somebody is diagnosed with bowel cancer. Bowel cancer is the fourth most common cancer affecting all types of people - young, old, female or male with 42,000 people a year being diagnosed. Unfortunately, it is the second biggest cancer killer because, despite it being treatable, it is often diagnosed late, with signs and symptoms confused or brushed aside. Spotting the symptoms can save your life as early detection means the cancer can be successfully treated in over 90% of cases.
Here at Spire Dunedin Hospital our Consultant Gastroenterologists and Colorectal Surgeons are supporting Bowel Cancer Awareness Month 2019, aiming to encourage people to act if they spot anything out of the ordinary, particularly those who are younger than the national screening age and who may not be sent kits. These kits are sent as part of the NHS prevention strategy and are targeted at those between the age 60 and 74 who are sent the tests every two years, with just over half completing it. This screening program has proved successful in detecting bowel cancer before any symptoms appear, meaning treatment success rates are better. But all age groups should be aware of the symptoms, particularly if there is a family history of the condition as this may increase risk.
Symptoms include a change in bowel habit that lasts for three weeks or more, traces of blood in your poo, unexplained weight loss, extreme fatigue that lingers even after a rest, unusual stomach pains or a lump in your stomach. Having these symptoms does not necessarily mean you have bowel cancer, as there are a number of things that could be causing them, but they are a sign that you need to see your doctor. During your appointment discuss all of your symptoms with your GP and ask for a blood test to see if there are any indicators as to what is causing them – it can be useful to take along a diary of your symptoms to help pinpoint how diet and/or stress has affected your health. Often there aren't any immediate markers in a blood test, but anaemia is an indicator as well and can be detected this way. The GP should then send you to be assessed in clinic by a colorectal surgeon. After a consultation a colonoscopy or a CT scan can be recommended.
Consultant Simon Middleton writes "Operable bowel cancer is usually treated by laparoscopic (keyhole) surgery these days, often meaning a much shorter and smoother post-operative recovery".
There are no clear indicators as to why bowel cancer occurs but there are some lifestyle choices that you can make to improve your health in general and which can increase the chance of successful treatment if diagnosed. These include:
Not smoking: Long term smokers are more likely to develop bowel cancer than non-smokers.
Cutting down on alcohol: Bowel cancer has been linked to regular heavy drinking.
Exercising regularly: This helps in balancing your calorie intake and preventing weight gain, whilst helping move food through your digestive system.
Eating healthily: Dietary fibre from whole grains, fruit and vegetables help move waste quickly through the digestive system. Drinking plenty of water also helps.
In 2019, 268,000 people are living with bowel cancer. There have been some recent cases involving BBC television personalities, who have talked about their personal experience of bowel cancer. Those diagnosed at an early stage have a 93% five years' survival rate compared to less than 7% for late diagnosis. That's why we're supporting @bowelcanceruk this April for Bowel Cancer Awareness Month.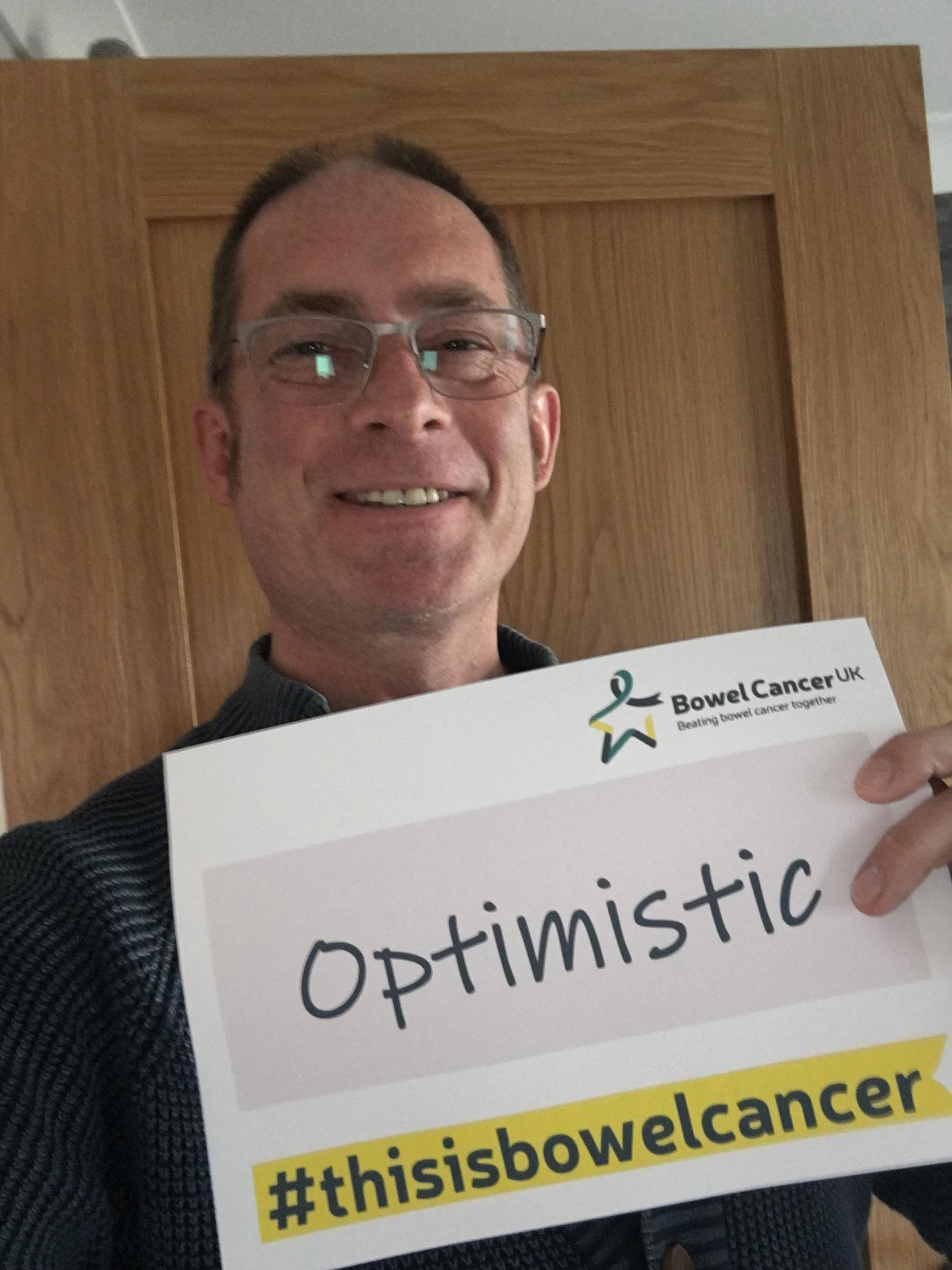 We asked Steve Clark, who lives in Caversham and who was diagnosed with bowel cancer in May 2013, to describe his treatment pathway. At the time of his diagnosis he was a healthy 49 year old who was a competitive trail runner and trained in mixed martial arts and yoga. After noticing a persistent change in his bowel habits he went to his GP to get checked. Following a number of tests he was referred to a gastroenterologist for a colonoscopy and then a CT scan. Steve's diagnosis was stage 4 bowel cancer, but thanks to excellent care by his surgeon, Mr Anil Desai at our sister hospital Spire Thames Valley, and great oncology support, he is doing great almost six years on.
"It's so important to go to your doctor if you have any of these symptoms as it means you can get treatment started sooner rather than later, and that could well save your life" says Steve.
Steve now leads a very active and full life including lots of travel throughout the world. He is an active volunteer with Bowel Cancer UK and runs the Strive for Five campaign, to help give hope to people diagnosed with advanced bowel cancer. 
This April we hope you will you join us in supporting the #thisisbowelcancer awareness campaign. If you are worried about the symptoms described do see your doctor or make an appointment to see a Spire GP who can then refer you to one of our Consultant General and Colorectal Surgeons.