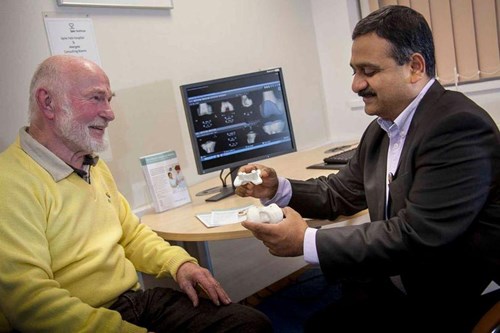 A retired marine academic is back being a hockey umpire and skiing, after a pioneering "made-to-measure" knee operation using 3D moulds.
Peter Grove was suffering increasing pain from a knee injury 40 years ago and been forced to give up playing most sports before the operation which has changed his life.

Orthopaedics specialist Muthu Ganapathi is leading the way with a personalised knee replacement technique at Wrexham's Spire Yale Hospital.
He first carries out a virtual operation on a computer, to help create the shape for the replacement, with a mould made-to-measure in Belgium.
It means the artificial knee is a custom fit, reducing the patient's time in the operating theatre plus the number of sterile instruments needed. The technique also cuts recovery time by more than a third.
 "I couldn't believe how fast it all was, and how quick my recovery," said 73-year-old Mr Grove, a retired Bangor University senior lecturer in marine science from Menai Bridge.
"I was up and about walking not long after the operation, and only spent three days in hospital. 
"The problems first started when I was 19 and was running across a park in London at night, on my way to meet a girl.
"I tripped over a bench and damaged my left knee - it left it unstable for the rest of my life.
"My dodgy knee eventually meant I had to give up playing rugby for London Irish and playing hockey at county level, though I continued as an umpire.
"Finally I had to give that up as well, because of osteoarthritis.
"My knee was extremely painful and my wife Valerie had walk very slowly for me to keep up with her, when we took our dog out.
"I had the operation at Spire Yale Hospital through the NHS because of the waiting lists.
"I went for an MRI scan so they could create the virtual knee, and went locally for my pre-op check-up and then follow-up appointments.
"I am now back umpiring hockey games and earlier this year went skiing in the Pyrenees, on a blue run.
"I thought the metal in my knees might cause problems at airports, but they are getting used to such operations now, and I just have to warn them the scanners will go off!"


Mr Ganapathi has now done more than 200 such procedures. He now hosts visiting surgeons from other hospitals across Britain who come to see the new technique in practice.
He said: "Like many features of an individual person, each person's knees are to some extent different.
"Studies have shown that good alignment of a knee replacement is important for optimal outcome. In addition, the component sizing and optimal positioning are also important.
"During conventional knee replacements, manual guides are used and a certain amount of 'eye balling' is involved – this can result in a proportion of 'outliers' who can have less than optimal function.
"With a custom fit knee, an MRI scan of the person's hip, knee and ankle is done few weeks before the operation.
"Computer software creates the 3D model of the patient's knee and allows the surgeon to plan the bone cuts and component placement. The model also allows the best sizing option and shape.
"These images are then used to create precise 3D plastic moulds which, when placed on that particular patient's knee during surgery, allows customised bone preparation as planned previously in the computer.
"Essentially the surgeon does a virtual knee replacement in the computer and then executes this plan during the actual surgery.
"While the actual surgery will still be the same as a conventional knee replacement, I felt that there may be significant advantages by adopting this new technique.
"In fact my own data has shown that already there has been significant benefits including much shorter operative time, patient's seem to be recovering faster with shorter length of stay and almost nil blood transfusion requirement.
"More importantly, I am also finding that the average one year patient reported functional outcome scores with this technique are much better than using conventional techniques*. I think this is a significant benefit for the patients and may be related to the careful planning done during the virtual knee replacement," added Mr.Ganapathi.
The specialist hip and knee surgeon trained in Cardiff and Canada and visited specialist centres in US before starting as a consultant orthopaedic surgeon at Bangor. He now works for the NHS at Ysbyty Gwynedd, and privately at Spire Yale Hospital in Wrexham and Abergele.
*Compared to what has been published as 'national standards' in the National Joint Registry data on knee replacements using conventional techniques, despite having similar preoperative scores.