Hello my name is Zoe Sinton and I am the MRI Lead Radiographer at Spire Murrayfield Hospital, Wirral.
Hello my name is Zoe Sinton and I am the MRI Lead Radiographer at Spire Murrayfield Hospital, Wirral.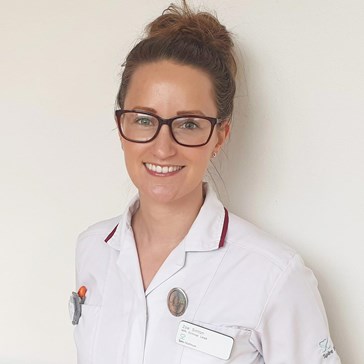 Hello Zoe! How long have you worked at Spire Murrayfield, Wirral and what is your previous background?
I've worked at Spire Murrayfield Wirral for two years. Prior to that I worked as a Senior MRI Radiographer at a local NHS hospital, as well as doing Locum work across the North of England. I've been working exclusively in MRI for the last seven years but also enjoy the X-ray/theatre/fluoro role of general radiography – no two days are the same.

What made you want to be a Radiographer?
I had a close relative that was poorly when I was younger, around the time I was choosing my GCSEs. He had lots of hospital investigations, which encouraged me to look into medical imaging as a career. Science was my strong point at school, and I admired the caring professions; Radiography was a great mix of the two with lots of opportunity for career progression and development. I chose MRI as my speciality as it's one of the fastest developing imaging techniques. It's only been around (for) 40 years but is the preferred modality for most disease investigation. The images are really detailed, you can examine lots of areas at the same time and there's no radiation involved.

What makes you proud to work at Spire Murrayfield, Wirral?
The staff – there is a real community feel here. When there's a team or individual success, it's shared hospital wide in our daily 'huddle'. To me, this shows how passionate we are about our patients and the care we provide.
What does "Hello my name is…" mean to you?

Compassion. It's important in MRI to understand how the patient is feeling before we bring them into the scan room. It can be an anxious time for the patient which will have a direct effect on the quality of the images I can achieve. I need patients to trust that I'm there to look after them as well carry out their imaging. What better way to begin that process than with 'Hello my name is Zoe, I'll be looking after you for your scan today.' It's a simple concept but one that has a great impact on patient care.
And finally, what's your hidden talent?
I'm a fully trained Ballroom and Latin American dancer. You won't catch me on Strictly Come Dancing, but if you want dance lessons for your wedding, I'm your girl!
Spire Murrayfield Hospital, Wirral are joining the important social media campaign launched by Dr Kate Granger MBE and her husband Chris Pointon, to encourage and remind all staff to go back to basics and introduce themselves to patients properly. You can read all about Dr Kate Granger's journey and the campaign on their website https://www.hellomynameis.org.uk