Hello my name is Gill Walker and I am the Pharmacy Manager at Spire Wirral Hospital.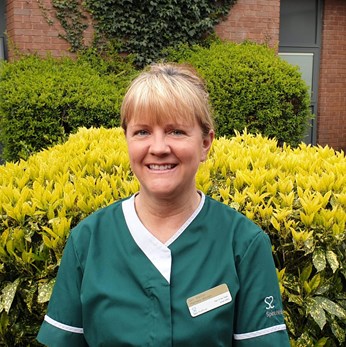 Hello Gill! How long have you worked at Spire Murrayfield Wirral Hospital and what was your background previously?
This is now my 19th year at Spire Murrayfield Hospital (can't believe my daughter Charlotte was only 3 months when I first started and is now at Uni!).
I started my career in retail Pharmacy in 1985, when my first role at 16 was as a shop assistant for Boots Pharmacy. Up until my placement at Spire Wirral in 2000, I had never worked in a hospital setting before.
What made you want to be a Pharmacy Manager?
Sad as it may sound, I absolutely love and thrive on Medicines Management and Governance; given my many years in Pharmacy it runs through my blood. So, it was a natural progression to become Pharmacy Manager for the hospital around 11 years ago.
What makes you proud to work at Spire Murrayfield, Wirral Hospital?
It has to be the hospital staff's fantastic work ethos and the 'family factor' of Spire Wirral Hospital. Going out of our way to ensure a high level of service and support to our patients and staff is what makes us great!
What does "Hello my name is…" mean to you?
I strongly believe that any relationship is based on trust. A first introduction is crucial to gaining a patient's confidence and building expectations to ensure the best possible therapeutic outcome for the patient.
'Trust is like a vase... once it's broken, though you can fix it, the vase will never be same again'  K Cunningham
And finally, what's your hidden talent?
I am a 'time-served' DIYer and internal designer at home! I can build a BBQ, plumb a toilet/basin and tile a wall – you name it, I'll try it. Believe it or not, I wanted to be a jewellery designer before leaving school!
I'm also trained to level 2 in Sign Language (although it's been a while since I've practiced)
Spire Murrayfield Hospital, Wirral are joining the important social media campaign launched by Dr Kate Granger MBE and her husband Chris Pointon, to encourage and remind all staff to go back to basics and introduce themselves to patients properly. You can read all about Dr Kate Granger's journey and the campaign on their website https://www.hellomynameis.org.uk