Time to break the silence about IBS embarrassment
He spent several years living the daily nightmare of being unable to fully control his bowels.
Toilet stops were planned long in advance of any trip out of his home and nasty 'accidents' that occurred on a regular basis caused embarrassment and upset for the Tamworth father-of-four.
But now, in support of IBS (Irritable Bowel Syndrome) Month 38-year-old Richard has bravely decided to speak out about the condition and how surgery gave him his life back.
He explained: "Everything I did was dominated by my need to have a toilet close by. Foods caused problems and stress was a major issue.
"Once, when I was 28 and had been out of work for two months I was driving to a job interview. I suddenly needed to use the toilet but there was nowhere to go. I planned to use the toilet in the reception when I arrived for the interview but I didn't make it – I wasn't even close!
"I had to turn around my car and drive home in a mess, too ashamed to even pull into a service station. There were lots of incidents like that over the years, but they occurred more often as I got older," he explained.
"The nature of my job requires me to train large groups of people on how to use software. Once I had to present to a small group and on the way to the meeting, I had to stop and use the toilet. I didn't quite make it in time so had to hold the meeting, outwardly looking presentable, without any underwear on!
"I can almost smile about it now but at the time you will never know how much it affected me - my confidence, my self-esteem, my entire outlook on life.
Five years ago Richard, a Senior Software Consultant, was finally convinced that surgery was his best option.
He had been seeing Consultant Gastroenterologist Dr Mark Cox at Spire Little Aston who diagnosed Ulcerative Colitis and prescribed various medicines in the hope of controlling the problem.
"In the end, Dr Cox said that the best advice he could give me was to have the surgery. I was against the idea at first but he talked me through it and introduced me to a surgeon who could carry out the operation."
At his lowest adult weight of just nine stones and living on a diet of ready salted crisps and Lucozade –two things that didn't seem to trigger his symptoms as much as many other foods – Richard met Consultant Colorectal Surgeon, Mr Haney Youssef.
In the first operation, carried out at Spire Little Aston Hospital in Sutton Coldfield, Mr Youssef removed Richard's colon and replaced it with a colostomy bag.
That was in May 2017. In October the following year, Richard then had to make his biggest decision. Did he want the bag removed or should he have the bag made into a permanent fixture? He chose the latter.
Mr Youssef explained: "The removal of the colon had gone well and Richard had adapted well to life with the colostomy bag. However, keeping the bag meant another operation. It isn't a decision to be taken lightly and we discussed it in great detail before carrying out the procedure."
Now looking back Richard's only regret is that he didn't make the decision many years earlier!
"My life has very much changed for the better. I can spend time with my children without worrying how far I am from the bathroom and I have more energy to spend with them, where before I barely had any.
"They see my bag almost like a comic book superpower. My work life is much improved, I don't have to worry anymore about the things I used to. There are times when my bag will leak, sometimes depending on what I've eaten, but I've learnt how to deal with that.
"Even up to the final day before my surgery I was still not 100% sure I wanted to go ahead with it. Now I wish I could go back five years and tell myself to accept the surgery and move forward with a better quality of life."
If you suffer from IBS any sort of bowel problem, come and see one of our specialists today and start your road to recovery!
Call us on 0121 580 7119 or send an enquiry.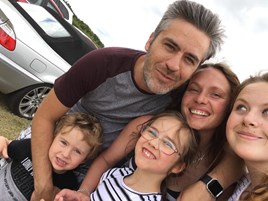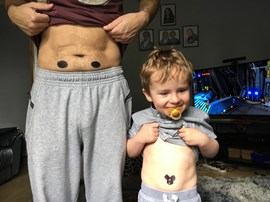 Richard pictured with his family.
---
FAQs
Q: How quickly could I have a consultation, and how much would it cost? 
A: It depends on the availability of the consultant you wanted to see, but we pride ourselves on getting you fast access to diagnosis and you can often get a consultation within 24/48 hours. Initial consultation fees vary by the consultant, but around £175 is a reasonable guide.
Q: If I need surgery, how quickly could I have it?
A: We have no waiting lists at Spire Little Aston, but again, it depends on the availability of the consultant you wanted, but as a guide, and subject to your pre-operation assessment, between one and two weeks. 
Q: I don't have health insurance, can I self-pay? 
A: Yes, you can. Our self-pay team can talk you through this and explain the finance options that are available, should you wish to explore them. Call 0121 580 7119, or send an enquiry.