Cheryl Young, 28, from Leeds, was classed as 'super morbidly obese'. She had gastric bypass surgery under the care of Mr Simon Dexter.
Over the years Cheryl's her weight ballooned to more than 21 stone and with a BMI of 51 she was at risk of developing life-threatening health problems as her weight spiralled out of control.
Cheryl's weight problems started during her childhood. "I was always the biggest in my group of friends at school and I asked my GP for help with my weight when I was 15," said Cheryl, who tried many different diets but the weight continued to pile on.
"Mum was always on a diet and when I got into my teens she encouraged me to diet with her. My downfall was always pasta, burgers and fast food. Before I had my first child I used to work 12 hour shifts and had two jobs so I was too tired to cook when I got home."
The final straw came when Cheryl was visiting a relative and the chair she was sitting on collapsed. "I was in tears and after that I decided to look into having surgery," said Cheryl. It was not a quick decision. She researched for 13 years before finally deciding to go ahead in July 2014.
"I chose to have a gastric bypass rather than other surgical options such as a gastric band as I wanted something that would give me a more permanent solution and the doctor supported my decision," she said.
Cheryl had a laparoscopic roux-en-y gastric bypass procedure under the care of Mr Simon Dexter, consultant weight loss surgeon at Spire Leeds Hospital, and started losing weight straight away. She lost three stone in the first two months and continued to lose weight steadily after that.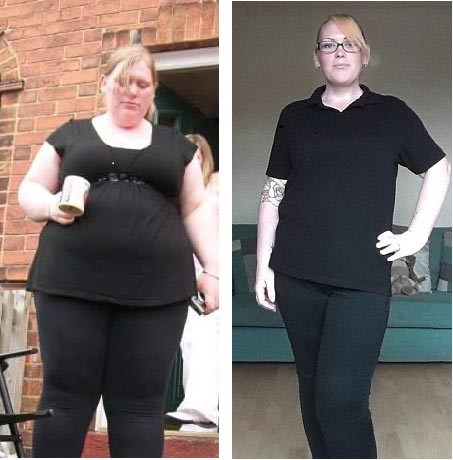 Mr Dexter said, "When Cheryl first came to see me she was in a spiral of progressive weight gain which meant she had an increasing risk of serious long-term health problems including diabetes, hypertension, stroke, heart disease and decreased mobility and she stood to lose maybe 10 to 15 years of life expectancy."
He said the prevalence of serious obesity is rising, but patients who might previously have avoided surgery are learning more about its risks and outcomes, resulting in a rapidly increasing demand.
Mr Dexter described the procedure, "The stomach is stapled to reduce its capacity to around 20- 30mls, and joined directly to the small bowel to drain the stomach pouch into the gut. The excluded section of stomach and small bowel are joined onto the bowel further down to reintroduce digestive enzymes so that food can be absorbed effectively."
Cheryl set herself a goal to lose six stone after surgery and is thrilled to have exceeded those expectations by losing a further two stone. She now weighs just under 13 stone and has dropped from dress size 24 to size 12. "It turned my life around and gave me the kick start I needed."
"I used to live in leggings and t-shirts. Everything I had was black and I hated going shopping for clothes because nothing looked good on me."
"It's great now, I can buy every style of clothing and lots of bright colours. I bought my first dress since primary school and my first pair of shorts."
Cheryl said before having the surgery she had little energy and would be tired after just five minutes of playing with her children. "Now I have so much more energy and can enjoy lots of activities with the kids such as swimming, skipping, hula hooping and woodland walks. My daughter, Summer, likes skating and I plan to buy some skates for myself."
Cheryl is determined to stick to her new regime and to set an example for her children. "I plan ahead what I am going to eat and stick to my shopping list then prepare meals in advance.
"Having surgery is the best decision I've ever made and I would recommend it to anyone in the same position. I'm determined to set a good example for my kids and they are so happy to have their mum back."