There isn't a typical day on the Heartwood Ward, you never know what may occur!
We caught up with Amber Dance, the Cancer Nurse Specialist from the Heartwood Ward to find out what a day's work is like for them.
'There isn't a typical day on the Heartwood Ward, you never know what may occur!
The morning usually starts with patients attending the unit to have their blood test taken for treatment. Patients then attend throughout the day for chemotherapy or immunotherapy for various cancer sites eg breast, bladder, gynaecological, colorectal and haematology.
There's a lot going on in Heartwood, such as: Covering oncology clinics to enable good relationships with the consultants and patients, improving communication and efficiency. Running a 24 hour on-call service for patients who are unwell outside the 9-5 working hours. Liaison with community teams, local Trust Hospitals and hospices to organise other aspects of care for patients. Covering all the breast clinics that take place throughout the week and support patients in chemotherapy. I visit patients post op and sit in with new diagnosis to offer support. We run monthly support groups and provide a bra and prostheses fitting service. We also run 'Moving Forward' sessions when treatment has finished.
Interesting facts: Unlike other chemotherapy units, we have separate treatment rooms for the patients, which gives them privacy and dignity. Heartwood has its own kitchen area to enable the staff to make drinks for patients and visitors, accompanied by a cheeky biscuit or two. We organise lunches for the patients and drive the chefs mad with our requests! The support groups such as coffee mornings or evening meetings involve a speaker who will present a topic, which may benefit and interest the patients. We have developed great referral pathways for our patients, by working closely with lymphedema specialists, a psychotherapeutic counsellor, medical tattooist, and an exercise programme for cancer patients, Pilates for breast cancer, hairdresser and wig specialist, the local hospices and lots more.
Vicky is the Oncology Lead, there are then three fab chemo nurses Roma, Debbie and Jenny, then we have Linda, who is the Breast Care Support Worker and a great asset to the team. We're a very small team, but work very well together and it is a really nice atmosphere.
For giving chemotherapy, you must be trained in Cytotoxic Chemotherapy and then update the training every two years, due to the constant change in cancer treatments. We are able to access portacaths and PICC lines and we are also very skilled in cannulating/bleeding tricky veins (our aim has always been to be as good as the theatre staff haha)!
We are privileged to have an End of Treatment bell, it really catches people's eye when they walk into the ward and comments have been lovely.
We spend many hours of our day talking to, and reassuring our patients - it is a vital part of their treatment. During treatment it is very normal for people to have difficult times. But as a team we are all there to support them and guide them through as best as we can. I always ensure that the patients have my number and are very aware that they can call or text about anything.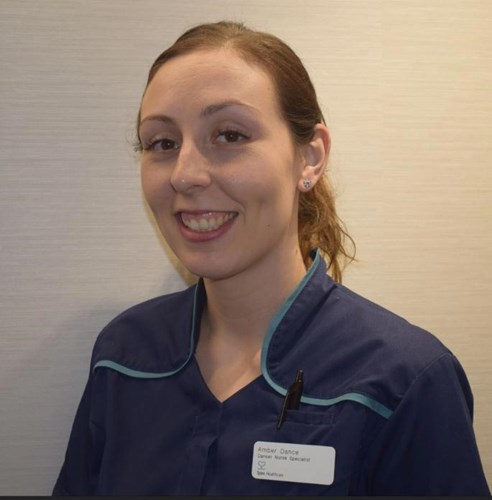 Amber Dance - Cancer Nurse Specialist