Plucky grandmother gets back on the saddle after hip replacement - and raises £20,000 for charity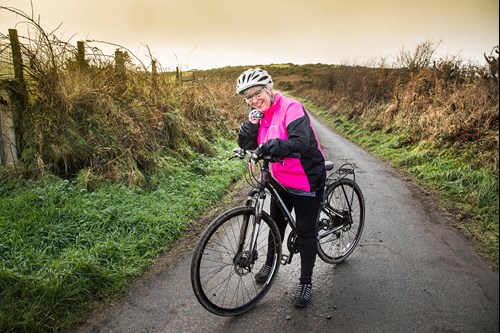 An "inspirational" grandmother completed an epic cycling challenge in Cambodia three months after undergoing a hip replacement operation.
 
Keen cyclist Ann Owen, 60, was in training for the gruelling Global Adventure Challenge from Vietnam to Cambodia at the start of 2017 when she suffered crippling pain in her hip caused by osteoarthritis which left her immobile and in severe pain.
 
But the plucky grandmother-of-two, from Sarn Meyllteyrn, Pwllheli, refused to back out of the challenge.
 
Three months after the operation by consultant orthopaedic surgeon Mr Mayur Chawda at the private Spire Yale Hospital in Wrexham, she was back on the saddle.
 
The farmer completed the 250-mile cycling marathon and trek which has raised £20,000 for the Ellen MacArthur Cancer Trust.
 
The charity was chosen in memory of her friend's son, Eddie Fletcher Brewer, who lost his battle against leukaemia last year. Ann completed the challenge with Eddie's mum, Louise Fletcher Brewer, 61.
 
She said: "It was a fantastic experience. It was hot, humid, and hard. It wasn't a holiday but it was well worth the hard work and I don't regret it for one second.
 
"People usually have new hips to get on with their lives whether that is being able to walk or to potter around the garden. I had a new hip so I could go cycling across Vietnam!
 
"It was a bit of a tall order – I'm not denying it – but I never really thought I would have to pull out. It was a major operation but I was determined.
 
"I'm a very positive person. I'm always looking on the bright side of life. You either sit in a corner or get up and go and I decided to get up and go."
 
Ann, who has a grown up daughter and works on the family cattle and sheep farm with her husband Charles, 64, first complained of hip pain in July this year, six months after embarking on her training schedule for the challenge.
 
Within two to three weeks, she was immobilised and suffering excruciating pain. Instead of completing up to 80 miles a week on her bike, Ann found herself unable to walk.
 
Mr Chawda, who also works out of the Spire Consulting Rooms in Abergele, explained: "Ann had a lot of pain and the pain was quite significant and debilitating. It was stopping her from doing the things she wanted to do. Her quality of life was being compromised and she was looking for a solution.
 
"When I met Ann she was diagnosed with osteoarthritis of the hip and we discussed the treatment options including hip replacement surgery. At that time she mentioned the cycling challenge and we looked at the timescales. I said it might be possible if the operation was undertaken in time and there was a three-month minimum window between the surgery and the cycling challenge."

Mr Chawda has been a Consultant Orthopaedic Surgeon for 10 years and specialises in all aspects of hip and knee surgery including sports injuries, arthroscopic hip and knee surgery, knee ACL ligament surgery, meniscal repair, partial knee replacements and PSI knee replacements.

In addition to his private work at Spire Yale Hospital, Mr Chawda is a respected senior orthopaedic consultant in the NHS as well as training junior surgeons from Oswestry and Wales. He has undergone extensive training in hip and knee surgery, including fellowships in Germany and Australia.

Within six weeks of Ann's operation, which took place in August this year, she was back on the saddle – albeit on a stationary fitness bike in her living room.

Mr Chawda said: "She was doing very well and I was pleased with her progress so I couldn't see any problem with her ambition to start cycling again. I was confident that Ann's new hip would be ready for the challenge. I explained to Ann that if after two to three weeks she was progressing enough then she could go for it."
  
Ann soon swapped the stationary bike for the real thing and started cycling around the area where she lives.
She said: "My physiotherapist was a very big influence in my recovery as I took everything they said into action, and listened to the advice that they gave me".

"I could cycle better than I could walk. There was a little discomfort at first but I don't think I will ever say I'm in pain again after the pain I had when my hip went. It was horrendous.
 
"I tried to train every day after that, weather permitting, and would cycle around 20 to 30 miles a day. The only real problem I had was getting my leg over the bike but gradually I got better and better and better. It was just determination and going for it.
 
"You need to have a challenge in life. You need a reason to get out of bed in the morning. I'd totally recommend it."
 
The challenge, which took place over six days, saw 42 cyclists covering a variety of terrain through traditional Vietnamese villages, streams, rivers and paddy fields and into Cambodia towards the world famous temple site of Angkor Wat.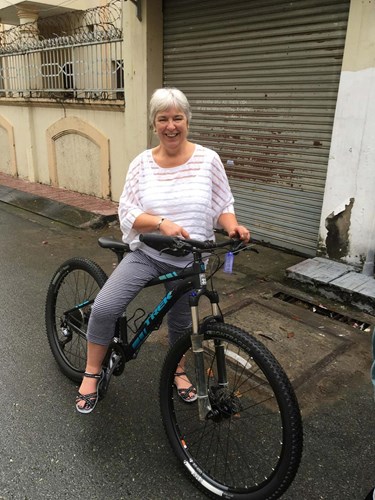 Ann, who started cycling 10 years ago as a hobby and successfully completed the London Night Ride last year, said her family were initially apprehensive about the trip coming so soon after major surgery.
 
"Everyone was worried. If I'd fallen over people would've said I shouldn't have done it in the first place so it was important to me not to fall off!
 
"My grandchildren were fascinated. I think they were quite impressed.
 
"Louise and I were the eldest in the group but we kept up with everybody and certainly weren't lagging behind. We were very proud of ourselves.
 
"Mr Chawda was great. He said I could do it and was really positive. He had every confidence in me."
 
Ann messaged Mr Chawda a photograph as she completed the challenge.
 
Mr Chawda said: "It was so nice to see. She's very inspirational and it's great for the other patients too to see what can be achieved. It's encouraging and gives them the idea that yes – after the operation activity is possible again.
 
"An important point to make here is that there are different types of hip replacement surgery and we can achieve different results depending on a patient's individual needs and requirements. This is something we discuss at length with each patient during the consultation process."
 
Ann, who also works part time at National Trust property Plas yn Rhiw in Gwynedd, said cycling will remain a part of her life for the foreseeable future – thanks to her new hip.
 
"I've absolutely no plans to stop," she said.
 
"I'd like to do another challenge but for the moment I think I'll just focus my attention on a cycling holiday!"
 
To arrange a consultation with Mr Chawda at Spire Abergele Consulting Rooms or Spire Yale Hospital, call 01978 268035.