For over 40 years Glenys Clarkson suffered from foot problems. For a number of years she wasn't able to wear high heeled shoes, eventually getting to the point where she had to wear soft, stretched fabric shoes. Going about her daily life was a challenge and after trying a number of corrective methods to fix her problem she then came to see Mr Kurt Haendlmayer at Spire Dewsbury Clinic.
Glenys explains: "The bunion developed over a number of years, first appearing in my early twenties and gradually enlarging over the ensuing years. The bony outgrowth became more noticeable about six months after I suffered a fall where I caught my big toe.
"I contacted my GP, who following an X-ray referred me to Spire Elland Hospital. I was relieved that I could finally get the problem sorted. I went home and researched the consultants available to me and came across Mr Haendlmayer. His profile and general demeanour relaxed me and so I went and booked an appointment at the Longlands Clinic.
"At my initial consultation, Mr Haendlmayer was everything I expected. He was pleasant, friendly and approachable yet extremely professional. He talked me through my problems and showed me a practical demonstration on a foot model. Having left Longlands, I felt nervous about the procedure yet optimistic about life after it.
"On the day of the procedure, I was given a guided tour of the hospital and introduced to the nurse who would be looking after me. My anaesthetist discussed my best options due to previous complications and we decided on the most suitable option. Mr Haendlmayer, a physiotherapist and a theatre nurse came to see me to check how I was to which by this time I was ready for my procedure. I even had housekeeping ask what I would like to eat following the procedure. It was unbelievable, so professional and caring.
"Following the surgery, I felt really good, I had no issues. I was ready to leave by noon the same day, having had all my medication and letters brought to me in advance. The physiotherapists even taught me to navigate stairs correctly for when I'm at home. Once at home, my recovery continued to go really well and my pain levels were quite low.
"At my follow-up appointment, I was absolutely delighted when I saw my foot for the first time! It was so exciting to see a non-lumpy foot, with little swelling and bruising. The wounds were tiny and my flexibility was getting better. Since the operation I can now do simple things that I haven't been able to do for years. Most importantly, I can do things with my grandchildren, pain-free."
Meet the consultant
Since qualifying as a surgeon Mr Haendlmayer has undertaken several posts in the Yorkshire area. In February 2010 he was appointed Consultant Orthopaedic Surgeon at Mid Yorkshire NHS Trust. His clinical interests are in sports injuries and foot and ankle surgery.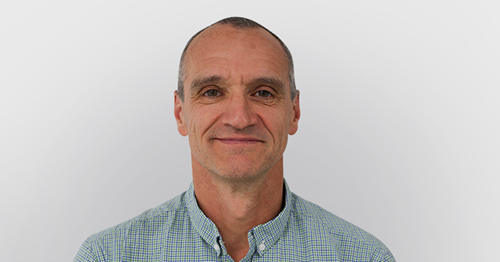 Learn more about the consultant