Still losing weight four weeks after passing the Elipse balloon!
Well done Kayleigh! Doesn't she look great?
As the first UK patient to try the surgery-free Elipse weight loss balloon, she has lost an incredible three stone in just four months!
Explains 28-year old Kayleigh: "I was delighted with my weight loss achievement of almost three stone. As promised by the dedicated team of dieticians, the balloon was expected to 'pass naturally' after 4 months. This was 4 weeks ago. I was expecting to feel something but the only thing I felt was hungry – so I knew the balloon had been passed! No pain, no discomfort – I was pleasantly surprised."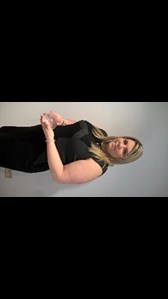 Now the balloon has passed naturally, Kayleigh successfully continues on her weight loss journey.
Kayleigh explains: "Over the four months, I learnt to eat a healthier diet and control my portion size. Since seeing the incredible results, I am really motivated to continue on my weight loss journey and despite passing the balloon, I've gone on to lose another two pounds. I am so happy with this weight loss procedure and it has really helped me kick start my weight loss once and for all."