New look Rachael's weight loss success
As a child she hid sweet wrappers under her bed and blamed her brother when it was discovered there was no ice cream left in the fridge!
Life for Rachael Wickes has been one long battle with her weight and her overwhelming obsession with food.
Even her dream job as a member of British Airways cabin crew came with consequences as she compared herself against fellow workers.
"When I was walking through airports I could see people laughing and staring at me, thinking 'how can someone her size be is she cabin crew' – it actually got so I dreaded going to work even though I loved the job!
"My uniform was always so tight and uncomfortable and I never felt nice like all the other girls no matter how perfect I tried to do my hair and make-up," said Rachael, who is presently on maternity leave.
But, as she tipped the scales at just over 21 stone and started to be affected by diabetes, the 39-year-old mum-of-two realised she needed help if she was ever going to lose weight and keep it off.
One year later following weight-loss surgery, Rachael has shed nearly nine stone and is now urging fellow 'failed dieters' not to be ashamed to seek surgical help in order to get their lives back on track.
"I don't think surgery is anyone's first option," said Rachael, who lives in Watford with husband Paul and children Amelia and Alfie. "I have been on every diet known to man – and every time I failed I felt I'd let everyone down and I just became tearful and depressed.
"In the end surgery was my only option! I'm not ashamed of that and I don't think other people considering surgery should think they are 'cheating' – they aren't! Like me they just need some extra help."
Rachael underwent a gastric bypass at Spire Thames Valley Hospital carried out by Consultant Upper Gastrointestinal & Bariatric Surgeon Mr Samer Humadi.
He explained: "It was decided that Rachael would benefit from a Roux-en-Y bypass. It is a more complicated procedure involving the creation of a small pouch at the top of the stomach but, in my mind, it is the gold standard when it comes to bypass procedures.
"A section of intestine is 'plumbed' into this pouch so that the food bypasses the rest of the stomach and enters the intestine lower down so it works by limiting the amount you can eat at each mealtime but also by altering the hormone levels produced by the gut to improve diabetes and make you less hungry."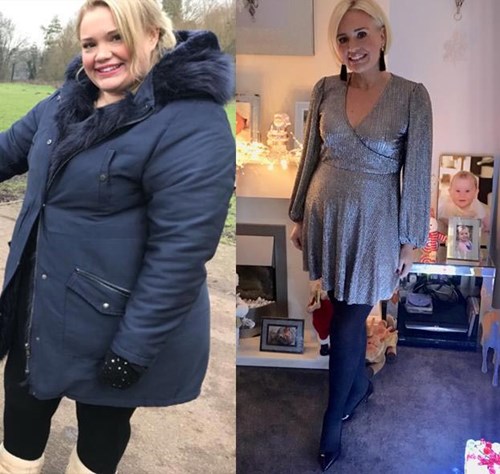 Working alongside Spire nutritionists the results were almost instant, with Rachael, who lost one-and-a-half stone in the first month and in the year since her operation, has shed nearly nine stone.
"And it won't stop there," she pledges. "It is my 40th birthday in June and I am determined to be down to 11st by then. For once I am really looking forward to being at a party where I really can feel like I'm the belle of the ball.
Five things that have changed for the better:
My health has massively improved.
I can go swimming with the kids and when they want to go down the water slide I can go with them.
I can shop where I want and buy the clothes I like and not just the ones that fit me.
When I get back to work I'll need a new uniform – in a much smaller size!
I can actually enjoy my food. In the past I was comfort eating. Now I am being more choosy about what I eat I can actually enjoy tastes and flavours without worrying about putting weight on.
If you are considering a weight loss procedure, why not book a free consultation with Mr Humadi to discuss your options? Click here to book your place or simply call us on 01753 665 404.