Need an MRI scan? Your top MRI questions answered here
With long waiting lists for an NHS scan, many patients are opting for a private scan to speed up their recovery process and get fitter faster.
Here at Spire Thames Valley Hospital, we now have a brand new scanner on site! It produces high quality scans, with reports, that you need for diagnosis and to commence your treatment as quickly and effectively as possible.
This article aims to answer your most common questions about MRI scans - but if you don't find the answer you are looking for please don't hesitate to contact us!
1) Do I need medical insurance?
No health insurance is required for an MRI scan with us. We offer affordable MRI scanning where prices start for £370. All you need a referral from your GP, Consultant, Physiotherapist or Osteopath.
2) What is an MRI scan?
Magnetic Resonance Imaging or MRI, uses powerful magnets and radio waves to create detailed images of the inside of your body, including deep tissue, organs and blood vessels. 
3) Are MRI scans safe?
MRI scanning is one of the safest imaging techniques available as it emits no x-ray radiation. An MRI scan is a painless procedure; there are no known risks or side effects associated with the scan.
4) Why would I need an MRI scan?
An MRI scan is one of the most sophisticated diagnostic tools available today. MRIs produce images (pictures) of the required body part in either 2D or 3D that helps a clinician to understand the cause of your particular health issue.
5) What does an MRI see?
We most commonly use MRI to get detailed pictures of the brain and spinal cord, as well as for looking into joints to understand musculoskeletal problems. Unlike an x-ray, which is best used to show bones, an MRI scan looks at soft tissue, to reveals any tissue damage, tears or bleeding. It's suitable for every part of the body, including bones, soft tissues (such as blood vessels, ligaments and muscles) and the brain.
6) Are MRI scans painful?
Not at all! An MRI scan is a painless procedure, just a lot of noise. However, for the scan to produce images you must be able to keep very still.
7) How long does an MRI scan take?
For one part of your body to be scanned it generally takes around 30 minutes.
 8) How do I get the results?
The radiologist will read the scan and then write a report to your referring clinician detailing the findings from the scan. Results are often ready within 24 -48 hours. After the scan it is possible for you to have a copy of your scan on DVD, however, this incurs an admin fee of £12, if you would like a copy you will need to inform the radiographer.
All scan results and images can be used by the NHS.
9) I am really nervous. How can you help?
Our scanner is one of the widest in the industry at 70cm – so there is plenty of room to move. As well as this wide bore – it also features a short bore, which means that scanning table is much shorter, so only the part of your body that needs to be scanned will be covered. You are welcome to have someone in the scan room with you to give you that extra bit of comfort. And you can also choose from a range of mood lighting, play music of your choice or even play your preferred audio book during the scan.
If you would like to visit the scanning room prior to your scan, just give us a call on 01753 655 420 to arrange a suitable time and one of our MRI staff will talk and walk you through the scan and then advise you on the best options for you, as well as showing you the procedure you will undertake.
10) What could prevent me having a scan?
If you are not sure or have had any of the following please let us know before you book your  scan and we will more than happily discuss your concerns: 
Certain aneurysm clips in your head
Certain metallic heart valves
A cardiac pacemaker
Some neurological stimulators
Metal fragments within your eye
The MRI examination can still be carried out if you have any fillings or other dental fixtures as these are non-magnetic elements.
11) What should I wear?
Please wear clothing without zips or metal buttons, and leave jewellery and watches at home if possible. We do have medical gowns, so you can come for the scan in your normal clothing if you prefer.
12) I have a disability; can I still have a scan?
If you have a disability, that's no problem. Just let us know in advance so we can ensure that we are able to offer you the highest quality service. If required, we have MRI friendly wheelchairs and portable couches.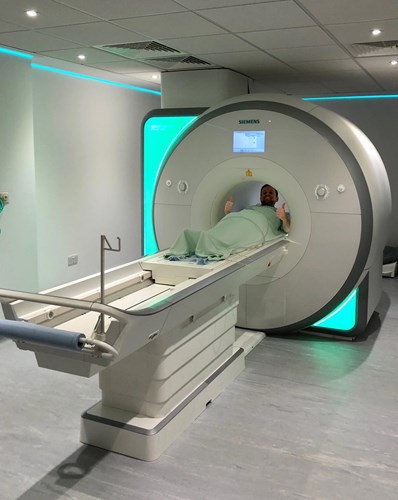 If you would like to book you next scan with us, simply call us 01753 665420 – just make sure you have your referral letter to hand – and we can see you typically within a couple of days.