Getting to grips with glaucoma
Glaucoma is a group of diseases that damages the eye's optic nerve usually caused by raised pressure within the eye. If left untreated, it can cause blindness. Glaucoma usually develops without early symptoms and progresses slowly. Detection requires regular screening and monitoring by an optometrist or ophthalmologist and early referral for diagnosis and treatment to prevent deterioration and loss of vision is key.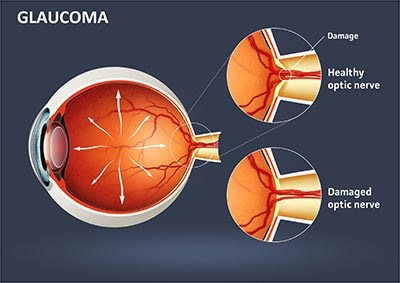 Diagnosing glaucoma
Glaucoma maybe detected by eye examination and tests such as visual fields or laser scans of the optic nerve.
Types of glaucoma
Open-angle glaucoma: This is the most common form of glaucoma. It occurs when the drainage meshwork of the eye gradually becomes less efficient at draining fluid, and your eye pressure rises. Raised eye pressure leads to damage of the optic nerve. Typically, open-angle glaucoma has no symptoms in its early stages and your vision remains normal. As the optic nerve becomes more damaged, blank spots begin to appear in your field of vision.
Closed-angle glaucoma: A less common form of glaucoma is closed-angle, or narrow-angle, glaucoma. Closed-angle glaucoma occurs when the drainage angle of the eye becomes blocked. Unlike open-angle glaucoma, eye pressure usually goes up very fast.
Normal or low tension glaucoma: For those who normal-tension or low-tension glaucoma, their eye pressure is consistently low and optic nerve damage and visual field loss still occur. People with normal-tension glaucoma typically receive the same methods of treatment used for open-angle glaucoma.
Ocular hypertension: This is when you have elevated eye pressure but do not yet have glaucoma. 
How is glaucoma treated?
Once glaucoma is diagnosed, treating it is a team effort between you and Mr Kheterpal. How your glaucoma is treated will depend on your specific type of glaucoma, the severity of your disease and how it responds to treatment. The most common way to treat glaucoma is with medicated eye drops, but for some patients with glaucoma, medication does not work effectively so surgery is recommended. Glaucoma surgery improves the flow of fluid existing the eye, resulting in the lower eye pressure.
Important things to remember about glaucoma
Vision loss from glaucoma usually can be prevented if it is detected and treated early enough.
Mr Sundeep Kheterpal is one of our leading Consultant Ophthalmologists here at Spire Thames Valley Hospital. He has 26 years experience of diagnosing and treating glaucoma and associated conditions. He uses the latest diagnostic tools and has a wide range of treatment options available and will work to maximise treatment benefit whilst minimising impact on your daily life. If you would like to learn more about any procedures or have any questions, please call us on 01753 665 404 or email us.