Don't let cataracts cloud your vision
A cataract is a clouding of part of your eye called the lens. The lens in the eye works like the lens in a camera, focusing light on the "retina", the layer at the back of the eye corresponding to the film in a camera. Your vision becomes blurred because the cataract is like frosted glass, interfering with your sight. It is not a layer that grows over the surface of your eye.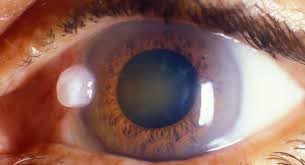 If you have been diagnosed with a cataract, don't be alarmed. Many people over 60 have some cataracts and the vast majority can be treated successfully.
What problems might you notice if you have a cataract?

Blurry sight: This is very common. You may notice that your sight has become blurred or misty, or that your glasses seem dirty.
Dazzle or glare: you may be dazzled by bright lights such as car headlamps and sunlight.
Change in colour vision: colours may gradually become washed-out or faded.
What causes a cataract?
Cataracts can form at any age. Most develop as people get older but we don't yet know why, although research is being done into a number of possible causes. In younger people we know that they can result from conditions such as diabetes, certain medications, trauma to the eye and related to other long standing eye problems.

What treatment is available?
The only treatment for cataract is an operation to remove the cloudy natural lens and replace it with a plastic lens. Diets or drugs, including eye drops, have not been shown to slow or stop the development of cataract.

When should I have the operation?
In the past, eye specialists often waited until the cataract became "ripe" and your vision was very poor before suggesting that you had the cataract removed. Nowadays, with modern surgery, the operation is usually done as soon as your eyesight interferes with your daily life and your ability to read, to work, or to do the things you enjoy. You will probably want to consider surgery is this is the case.
Waiting for a longer period is not likely to make the operation more difficult, unless the cataract becomes so dense that your eyesight is very poor. Cataract, even if dense, hardly ever does any harm to the rest of the eye. If you do not have the operation now, the vision is likely to worsen slowly but it is very unlikely to result in any permanent harm to the eye.
If you are a driver you must reach the visual standard required by the Drivers and Vehicle Licensing Authority (DVLA) and may need to have surgery in order to keep your licence.

What happens during the operation?
Just before the operation eye drops will be given to enlarge your pupil, blurring the vision.
Almost everyone has a local anaesthetic for the surgery, during which you will be wide awake but feel no pain in your eye. Drops to numb the eye are given. In some cases, a needle is placed in the back of your hand before the anaesthetic is given, so that drugs can be given by this route if necessary.
Some cataract operations are carried out under a general anaesthetic. If this is the case, you will be completely unconscious, as if you were sleeping deeply throughout the surgery.
Mr Manuchehri carries out the surgery with the aid of a microscope. The opening into the eye is so small that stitches are not usually necessary – if needed they cannot be seen or felt afterwards and are easily removed later in the out-patient clinic. The operation usually takes 15-20 minutes, although it can last longer. The lens containing the cataract is removed and replaced with a plastic lens, which remains in your eye permanently. The cataract is removed by a technique called phacoemulsification, in which the lens is softened with sound waves and removed through a fine tube. The operation cannot be performed by laser.
What happens after the operation?
A pad and/or a plastic shield may be taped over your eye at the end of the operation to protect it until the anaesthetic wears off.
With local anaesthetic, you will be able to eat and drink as normal straight after the surgery.
Most people notice an improvement in sight by the next day, although complete healing may take several months. You will be given eye drops to use at home, and these will usually need to be continued for a few weeks. It is a good idea to have some help at home at first, especially if you find it difficult to put your eye drops in.
You will probably go home on the day of the operation, and in most cases will be able to carry on with normal daily activities, but it is important to remember to avoid rubbing your eye, heavy lifting, strenuous exercise or swimming for about four weeks.
Mr Kaykhosrov Manuchehri is one of our Consultant Ophthalmologists here at Spire Thames Valley Hospital. If you would like to learn more about any procedures or have any questions, please call us on 01753 665 404 or email us here.