3 Counties Arthritis Event
Join Mr Nadim Aslam, Consultant Orthopaedic Knee and Hip Surgeon, at this special event arranged by the 3 Counties Arthritis Care Group. The event aims to support and educate patients affected by knee and hip arthritis and discuss the options available to them. Patients who have previously had surgery will be available to talk about their experiences.
Agenda
6:30pm Registration and Arthritis Fair - Local healthcare professionals
7:00pm Knee and Hip Presentation by Mr Nadim Aslam
Thursday 19th May 2016, 6:30pm

The Feathers Hotel, 25 High Street, Ledbury, Herefordshire, HR8 1DS
Places are free but strictly limited. For more information or to book, please contact us on:
01905 362 252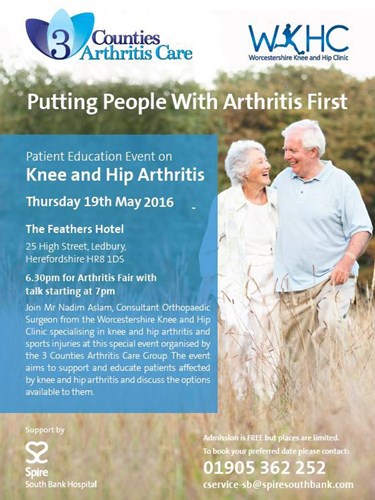 Thank you for your booking request, we will get back to you shortly.