Measures to reduce sun exposure and damage
By Dr Vikram Rajkomar, Consultant Dermatologist
While we start to get ready for our great British summertime don't let your guard down on sun protection.  Our Consultant Dermatologist, Dr Vikram Rajkomar, talks us through his top tips to reduce the damaging effects of the sun on skin.
Sun protection measures should be taken when the UV index (5 category solar UV forecast) reaches 3 or more (the higher the value, the faster you burn when out in the sun). Always use a combination of the below measures to ensure better protection.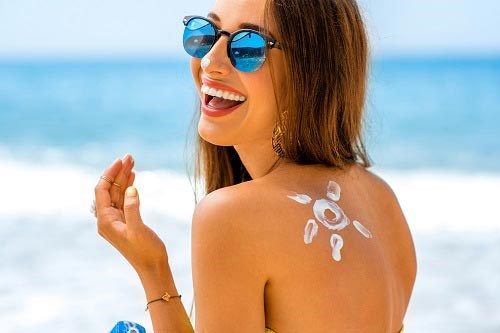 Protective clothing 
Hats
A wide brim hat or legionnaire hat is ideal (close weave of UPF rated fabric)
Sunglasses
Look for the European CE mark, indicating a safe level of protection
High EPE provides the best protection
Ensure that they are wider than the eyes to prevent UV rays getting through the top and sides
Sunscreen
SPF 50+ with 5* UVA rating
Apply 15-20 minutes before leaving the house and then again at least every 2 hours
Cover all areas of exposed skin, including the back of the neck, ears, top of the feet, face and the scalp
Use a lip balm with at least SPF30+
Get help from someone else for the hard-to-reach areas like the back and shoulders
Re-apply after swimming or episodes of excessive sweating
Shade
Avoid going out when sun's intensity is at its peak (usually between 11am and 3pm).
Avoid sunbeds 
Regular use increases the risk of skin cancer
If you have any concerns about a mole or the effects of sun damage on your skin book a consultation with Dr Rajkomar by calling our team on 01625 505 412.
The content of this article is provided for general information only, and should not be treated as a substitute for the professional medical advice of your doctor or other health care professional.